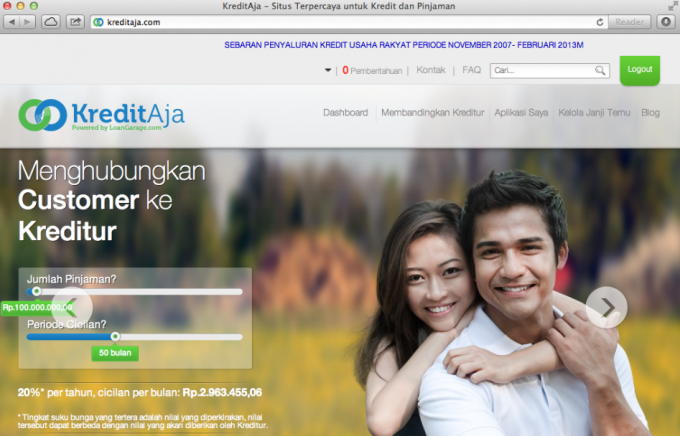 Today Singapore-based Loan Garage, a startup that aims to help people get loans online, announced that it has launched its Indonesian platform KreditAja.com. It's interesting to note that the expansion arrives only two months after Loan Garage made its full launch in Singapore. The Indonesian version looks to be off to a great start as Loan Garage has secured a partnership with Indonesia's Ministry of Economic Coordination (KUR) to distribute loans and microcredit worth $3.7 billion in Indonesia.
The KreditAja website looks identical to the Singapore version. Its video tutorial is still just in English, but the Indonesian version will be made available within two weeks time. Just like the Singapore version, KreditAja is an online platform for both borrowers and licensed lenders to conduct transactions. Details such as the interest rate of the loans can also be seen and compared within the site.
Although launched today, Kredit Aja will start its operational phase tomorrow with three banks as lenders. Three months after that, the platform will bring in the rest of the KUR bank partners onboard. Loan Garage CEO Aidil Zulkifli said that they earn money from commissions made from successful loan applications, premium subscription listings, and later on, advertising as well. The team will also introduce value-added services after they have amassed data on consumer financial behavior.
Led by country manager Emir Yamin, six out of nine of the Loan Garage team are stationed in Indonesia. Loan Garage is backed by private investors from various backgrounds like investment bankers and cloud computing specialists. Talking of the personal finance market and the team's plans, Aidil 1 added:
The personal finance market in emerging markets is ripe for disruption and there are many inefficiencies in the market for us to take advantage of and arbitrage. It is not as sexy or cool but it is easy for us to monetize. At the same time, all of us come to work excited with the prospect of building a product that could help in the financial inclusion process in emerging markets and help the average person on the street make a better life for him/herself through financial and credit empowerment.
We don't want to say much, but one thing that is for sure is that we won't just be in the personal loans vertical.
KUR itself distributed $3.5 billion of loans to Indonesian individuals and SMEs through banks in 2012. And since the beta launch in December, Loan Garage has processed over $500,000 of personal loans.
There have been other startups doing business in similar fields across Asia like Lenddo in the Philippines. Loan Garage itself is one of the startups that competed at Startup Asia Jakarta last year.
---
The quote came from Aidil, not Emir.