In just three short months, Indonesian creative network and marketplace Kreavi.com has gone through several milestones, one of which is by earning a spot as one of Google's Community Ambassadors Partners for its digital street art Open Spaces program. During that time, Kreavi has also rebranded its logo. We talked to Benny Fajarai, the co-founder of Kreavi, during the startup's first member get-together session called Kumpul Kreavi last weekend.
Google Open Spaces is a competition that is looking to promote creativity and art through digital street art. The nine best artworks will be painted on nine big walls strategically placed all over the Indonesian capital city. Benny explained that Kreavi has a similar objective with Google. And as 34 percent of Kreavi's members are digital artists and illustrators, Kreavi is looking to give huge support to the program. To help encourage user participation, Kreavi promises additional prizes for the top 30 artworks in the Open Spaces final vote, and will offer things like a chance to tour renowned illustration studios in Jakarta.
Recently, Kreavi has also seen co-founder Caroline F. Sunarko take up a position at another startup, as the general manager of Damn! I Love Indonesia online. Benny confirmed that this is true, and explained that Caroline's role has always been an advisor for Kreavi to connect with senior creative practitioners, universities, and also emerging designers. This doesn't change Caroline's advising role at Kreavi.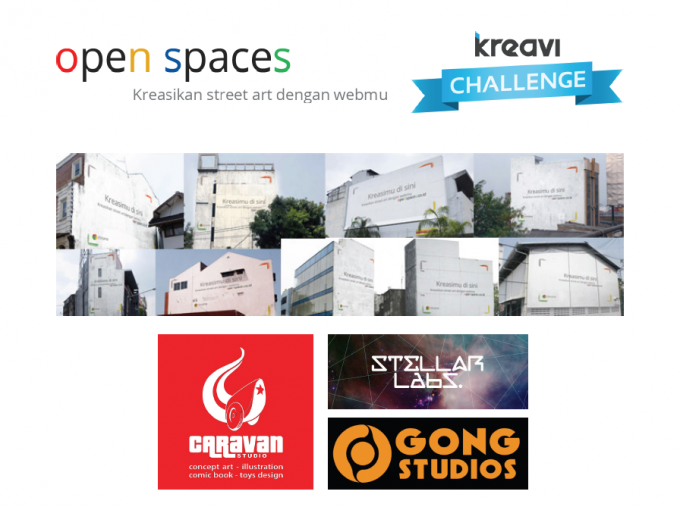 Benny shared some of Kreavi's latest statistics since we last wrote about the startup:
User-base: 3,100
Number of artworks: 14,000
Total companies posted on the marketplace: 287
Regarding user growth, Kreavi is a semi-professional design network which targets mid- to high-quality creative talents. The startup filters the artworks submitted every day, and has put around 10 percent of them into the 'scrap' category, which is a digital dustbin for artwork which hasn't met the basic quality standard set by the startup.
During the afore-mentioned get-together session, Kreavi also unveiled its new and simpler logo. Benny said that Kreavi has now set its eyes on a more ambitious mission to inspire, improve, and connect the Indonesian creative talents – compared to its previous mission which was to showcase Indonesian creative talent. He believes that quality, opportunity, and economic value will become the keys to the creative success online, and the logo must represent that change as well.
Besides connecting with brands and creative communities, Kreavi now seems to have set its eyes on linking up with government departments. Kreavi will fill in a couple of sessions on the upcoming Indonesian Creative Products Week later this November, which is backed by 14 Indonesian ministries. The startup will also link up with the ministry of tourism and creative economy on a project in the near future.