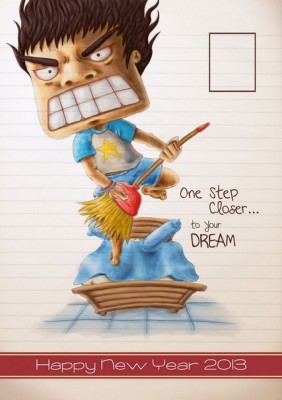 While the holiday season has arrived for many of us, one Indonesian startup decided to tap into the holiday spirit by doing a charity campaign. That startup is Indonesian creative network Kreavi.com. Co-founder Benny Fajarai said that social projects such as this can help connect Indonesian creative talents and show the public that good designs can also have a significant impact on people's lives.
Kreavi is selling New Year's greeting cards (pictured right and below) designed by its members in a special Kreavi Challenge. Each greeting card is sold for IDR 20,000 ($2) and all of the profit will be donated to three schools in Jakarta. The 24 card designs were selected by experienced creative professionals acting as judges. The greeting cards are printed by Indonesian greeting card printing service Kartumuu.com.
In the Kreavi project video below, we can get a glimpse of the students' lifestyle at the Tanah Abang kindergarten, one of the three to be helped by this campaign. The students live in a slum area, just next to a railroad. 35 students in that school are living below the poverty line, forcing their parents to make their children prioritize working as street beggars rather than studying at school. The teachers there are all volunteers as well, with little support from the government yet. The money collected will be used according to each school's needs.
Benny said that Kreavi will hold more social events like this whenever possible in 2013. The money generated so far has totaled IDR 7.5 million ($781). Companies and individuals can also help donate over on berbagi.kreavi.com. The deadline for greeting card purchases is Sunday, December 30th.