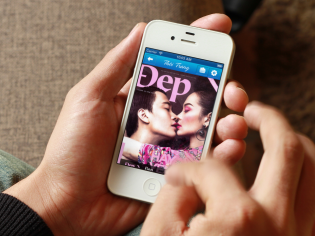 If you're in Vietnam and you've got an iOS device, chances are you're not using Apple's Newsstand. Personally, I'm annoyed by it because I can never hide it in a folder. I also can't get my hands on any Vietnamese-language magazines on it. Well, luckily Kpaper just released last week on iOS and Android.
I spoke with Nguyen Trung Nghia, the founder of KGP ID, which also runs projects including Sufi, Kcloud, Ktaxi, and Kprice. The really cool thing about the 17-person team is that some of there are actually in Da Nang, Vietnam's fastest growing central city, with a nascent startup culture.
Basically, Kpaper is an app that allows you to read local magazines online. It's the first of its kind in Vietnam and is another humble step in the direction of developing more online content in Vietnam. According to Nghia:
So far, we're working with three main publishers, including Viettel and Soha, and we're looking for more. We've already got 40 magazines online. The business model is to produce really good content and then get users onto our other platforms like Kprice, our payment system, and Ktaxi, a taxi booking system.
The interesting thing about paper is that it doesn't actually download the magazines to your smartphone, but rather allows you to view them online with a cache. In a way, it's like magazine streaming. So after you're finished reading, the magazines automatically delete themselves but are always available to be "streamed" again. Currently, the magazines are all free and Nghia is working with more publishers to get distribution going. In the future, it's possible that Kpaper will also charge for more pricey magazines, but this is just the first step right now.
You can check out the app on iOS and Android.