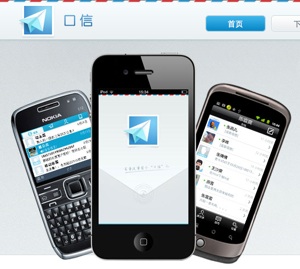 Qihoo 360 has launched a beta version of its brand-new group messaging app KouXin, which means 'message' in Chinese. It joins an increasingly crowded marketplace for group messaging apps, which use GPRS or 3G data to send unlimited text or voice messages to fellow users.
Qihoo (NYSE:QIHU) will be hoping that its new service – with apps for iPhone, Android, and Nokia's Symbian platform – will act as a halo product to bring younger users to its other products, such as its anti-virus suite, or its 360 web browser.
Weirdly, the developers at Qihoo have yet to get themselves a proper Apple or Google developer account, so for the moment the KouXin app is available to download only from its new site – take a look here. That will necessitate iPhone users to jailbreak their device. But the situation will soon be rectified when the app hits the iTunes App Store.
Kouxin will be up against stronger and more established group messaging apps from the likes of Tencent and Xiaomi's Miliao app. As a differentiator, Qihoo is emphasising the safety aspects of Kouxin, such as offering free, secure address book back-up in the cloud. As with all such apps, there's the issue of fragmentation amongst all the competing services – people will only adopt one group messaging app so long as other friends are using it too. Which means that Weixin, Miliao, and numerous foreign competitors – such as Kik, and WhatsApp – have had a long head-start.
China Mobile, the country's largest mobile telco, has its own similar – but more basic – service called FeiXin, which works on lower-end phones and has the advantage of getting lots of free publicity from China Mobile at their stores, or via spam messages.