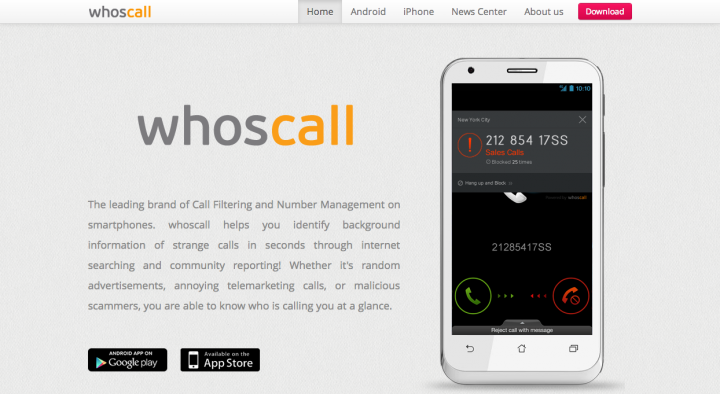 Korean web giant Naver has acquired Gogolook, the Taiwan-based startup behind Whoscall, a popular app in East Asia that identifies the origins of unknown callers. The exact amount paid for the purchased has not yet been disclosed.
Why is this news significant? In addition to operating one of Korea's leading search portals and Hangame, a massive gaming portal, the company also owns Line, the Japan-based messaging app with over 300 million registered users worldwide.
Gogolook has made a name for itself in Asia with Whoscall, which has been widely used in Taiwan, Korea, and Japan, where scam callers are prevalent. The app draws from white book databases, search engines, and crowdsourced records in order to create its own database, which it then uses to identify unknown callers.
The company was officially established in April 2013, developed by Jeff Kuo, Reiny Song, Jackie Cheng, Edgar Chiu, and Peter Su. To date, its database of phone numbers contains over 600 million entries. The app has garnered 4.5 million downloads worldwide and has over 1.2 million monthly active users.
We've reached out to Whoscall for more information about the details of the acquisition and will update this piece if we hear back.
[Update: December 26 15:15]: The Investment Commission of Taiwan's Ministry of Economic Affairs issued a press release yesterday confirming the acquisition was valued at NT$ 529 million (about $17.6 million USD). According to local media reports, representatives at Line Taiwan did not respond to inquiries about the acquisition or its future relationship with Gogolook and Whoscall. The Gogolook team is currently sharing office space with Line Taiwan (hat-tip to James Hill for spotting).
(Source: Inside Taiwan)