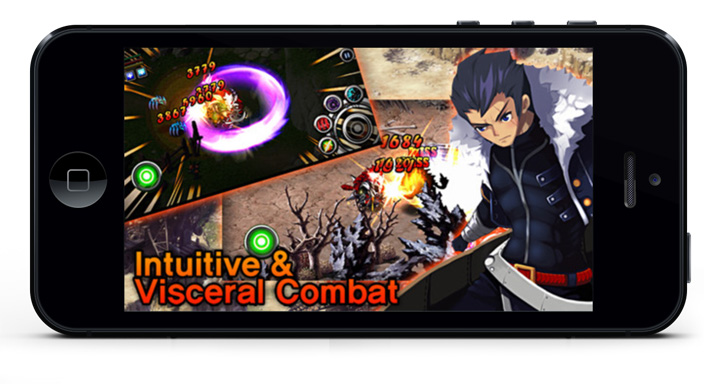 Started in 2008, Korean mobile RPG game Zenonia has a total of 40 million downloads globally. The latest in the series is Zenonia 5. Zenonia Online, its web-based version should be out soon. At one of the ChinaJoy conference talks, Yonghee Jung, CTO of Zenonia Series and vice president of Gamevil, shared some views as to why Zenonia has been a success. Despite praising his own games, Jung also revealed some of its weaknesses and how Gamevil plans to tackle them. We have summarized Zenonia's greatness in eight points for your easy reading, including some its flaws and plans moving forward:
1. Storyline: The team has invested heavily in creating a compelling storyline. Having tried Zenonia 5, the plot starts with a seemingly lazy character who naps and dreams about the future in between early stage quests. At least for me, the game has successfully captured my attention to find out if the dream is actually true and how this lazy bum 'hero' will become a true hero in the game.
2. Action: Unlike many other games, fighting monsters on Zenonia 5 is an improved experience with vibration and sound upon each attack. The experience is crafted after years of the title's earlier versions and research.
3. Visual: Despite limitations on the mobile technology, Jung says that Zenonia 5 makes sure each character class has a unique hit impact visual. The team has also made multiple tests to ensure they strike a balance between good quality art and not letting the file get too big.
4. Raids: Raid bosses for more players to fight collaboratively and get extra end-game content for high level gamers. This ensures a continual end-game experience.
5. Customizing the festive mood: The teams adds festive objects in the game for things like Christmas or New Year.
6. Continual improvement: Apart from start, mid-game, and end-game, the Zenonia experience is made to be continuously great. For example, Zenonia 5 has the 'gacha' system for users to obtain new items daily which Jung says has resulted in a high daily active user count (DAU). The 'Abyss' update provides stages for all levels and updates the gameplay according to user demand. The game offers extensive personalization options like new avatars for players to represent their virtual self.
7. Internationalizing: Zenonia 5 is available in Chinese, Korean, English, Japanese, French, German, and Spanish. Users are matched up based on OS and languages. Because the game started in Korea, many international players felt that the Koreans were overpowering the game (well, no one likes to get owned in games). Thus, gamers are matched based on their OS and languages.
8. Monetization: Comparing Zenonia 4 to 5, Zenonia 5 comes with an upgraded PvP experience that includes the option for gamers to purchase skills and stats points. With that, the game's overall revenue increased.
Problems and the future of Zenonia
While praising his own game, Jung also admitted that Zenonia has areas that the studio needs to work on. A lot of gamers are attracted by its story dynamic, but according to his statistics these gamers will still eventually leave the game despite having PvP and new dungeons as add-ons.
Jung believes that his team has yet to find solutions to keep users. But he did say that the upcoming Zenonia series promises to allow gamers to show off their skills and gear through competitions. It will also likely become more social as Zenonia looks to create ways for friends to help in fights and boost the gaming experience through communication.
One interesting and perhaps not too surprising note is Jung's emphasis on chat app trends. He reiterated that the trend must be followed as these social messaging apps are on the rise and likely will be the upcoming mobile gaming platforms of the future. Most importantly, chat applications like Korea's KakaoTalk and NHN's Line have turned a lot of casual users into mid-core gamers. Jung believes that it isn't too late to jump on board this trend.
Although things look rosy, his internal data shows that a game's lifespan is shorter on mobile chat apps. User growth is also limited as it is stuck within the chat application. Jung's last piece of advice is to focus on bringing quality games to gamers and advised game developers to listen to gamers. "They are always right," he added.
This is part of our ChinaJoy coverage.
(Editing by Steven Millward and Anh-Minh Do)