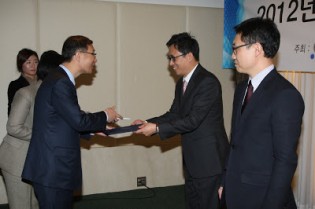 Korean pop star PSY's smash-hit Gangnam Style video (sorry if I just got it stuck in your head) has more than 943 million views on Youtube, and that number is only climbing. PSY doesn't represent the entirety of Korean culture, of course — not even close — but the success of PSY and artists like him in Youtube is part of why the Korean Ministry of Culture gave Google a special achievement award yesterday for helping to spread Korean culture.
Of course, K-Pop is just one aspect of Korean culture available on Youtube; the service also hosts Korean films and TV shows, too. But K-pop has been increasingly popular outside of Korea and its success on Youtube is probably a big part of why Google was given this award. According to Google, the number of Youtube users viewing K-pop music videos has risen rapidly over the past three years.
In a post on its Korea blog, Google responded to the award:
We are greatly honored to receive this meaningful award. But this award is not really about YouTube — we're just the platform. This is a reflection of the incredible creativity and ingenuity of Korean content creators who have captured the imagination of the world.
That's very modest of the company, but we shouldn't underestimate the value of a platform like Youtube when it comes to spreading culture globally. After all, millions of people around the world are already on Youtube; what better way is there to quickly export your culture?
[via Google Korea Blog]