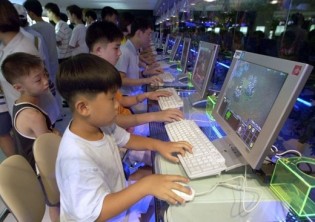 Everyone knows that South Korea loves Starcraft. But aside from that, what are South Koreans playing? Korean website Gametrics has tracked the most played games of the week in internet cafes across Korea, giving us a clear look into what Koreans — at least those who play games in net cafes — are playing these days. Here's the list via Chinese games site 17173; all these links are Wikipedia links so you can learn more about any games you haven't heard of:
Cyphers (Apologies, this one doesn't have a Wikipedia entry in English)
More interesting than the list itself are the statistics Gametrics tracked on what percent of the internet cafe gaming market these games hold, which show that League of Legends is utterly dominating everything else with a whopping 39.99 percent of the market. By contrast, second-place Sudden Attack has less than 10 percent, and third-place FIFA Online 3 barely has 5 percent.
It's also worth noting that when comparing this to a similar recent list for China, League of Legends is the only point of overlap. The lesson there: Asian gamers love League of Legends (not that that's a surprise). It's also worth pointing out that some pretty old games feature on both China's and South Korea's top games lists; clearly Asian gamers are less picky about having the latest graphics and physics than their pixel-peeping counterparts in the West.
(Gametrics via 17173)