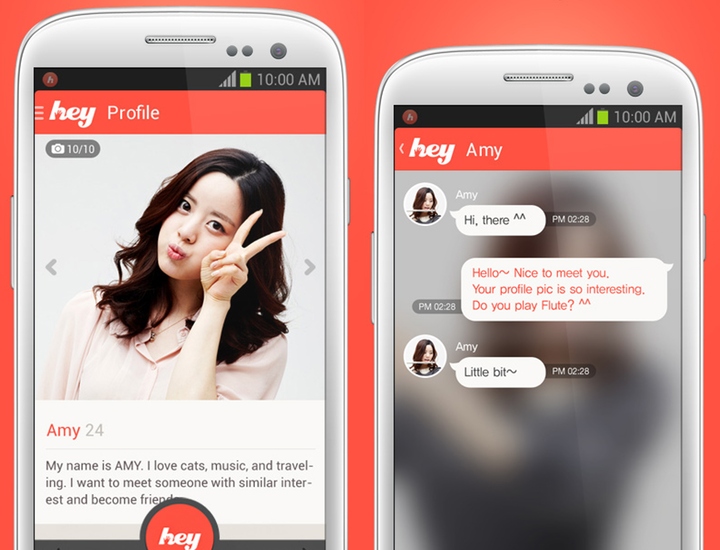 The South Korean startup that made IUM, a popular Korean dating app with over a million users, is now taking its match-making skills global. The team has launched Hey on Android and iPhone hoping to help find love for its new users around the world.
Steven Baek, the startup's head of global business, says that the new app – which runs in English, Japanese, and Chinese – shares a similar matching algorithm, business model, and overall DNA with IUM. The team is targeting Hey initially at smartphone owners in Japan, Taiwan, Hong Kong, and Singapore.
In contrast to flirting apps like Skout or China-made Momo, Hey picks out three matches for you every day at 10am. You then only have 24 hours to decide if you like your dates or not, and perhaps take the step of asking them out to dinner (tip: do so separately). Baek points out there's "no searching, no browsing, no ridiculous number of incoming chats coming from weirdos" – which makes it more appealing to women. And where women gather, men are sure to want to go. He adds, "Plus, you only get to talk to the other person when both sides have mutually OKed each other. But OKing someone requires an 'OK Coupon' which is where we make money."
Meet your match
We've seen this same daily match method in rival app NoonSwoon which is also targeting Southeast Asia.
The Korean startup has been doing this daily matchmaking for quite a while in IUM. Of IUM's million-plus users, about 40 percent of them are frequently active in the app, and 60 percent of those paid up for something at some point. (Of course, that might have happened only once). It is hoped that Hey has similar levels of activity and people paying to get OK Coupons.
IUM's young and urban user-base has also made it a good candidate for social marketing partnerships, which the app has engaged in with KakaoTalk, Uber Korea, and Between. That latter one makes good sense: once you've found a date via the dating app, you and your new partner can graduate to using the "couples app" Between.
The new Hey app is free on Android and on iOS.
See more: 6 dating apps from Asia
(Editing by Paul Bischoff)