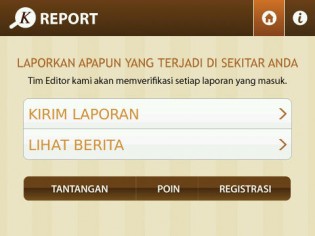 If you're starting to think K-Report is related to some kind of Korean pop culture, I'm saying it now: no, it is not. Kompas.com, whose parent company, Kompas Gramedia Group, is one of the biggest media moguls in Indonesia, yesterday announced that it launched a Blackberry application called K-Report to embrace citizen journalism.
With K-Report, Blackberry owners can write their own news and send it to Kompas. News submitted will be published in both the K-Report app and a dedicated section in Kompas' website. To make things more interesting for users, K-Report came with some interactive (I'm trying to avoid the G word here) features like challenges and a point system. In the challenge feature, Kompas provided several topics and challenge users to write about them. While with the point system, K-Report users will be able to rate every news posted by fellow users.
A user can rate from one star to five stars for each post. For every rating people give to his/her post, the poster will get points that then will be accumulated and shown in a leaderboard. Although I'm not really sure how the rating to point conversion works, because I have only tried to give some ratings, not to post a report. It's worth noting that in my own experience, I could only rate three stars somehow. Probably a bug that people at Kompas.com should fix.
Judging from the amount of news reported by users and points scored by people in the leaderboard, K-Report seems to have a welcome reception from the public. This should be no surprise as Kompas has already had a solid public participation platform called Kompasiana since 2008, although it's mostly filled with opinions rather than reports. I myself look forward to see how well K-Report will handle the process of verifying reports submitted by users when this platform has gathered a significant amount of user base.