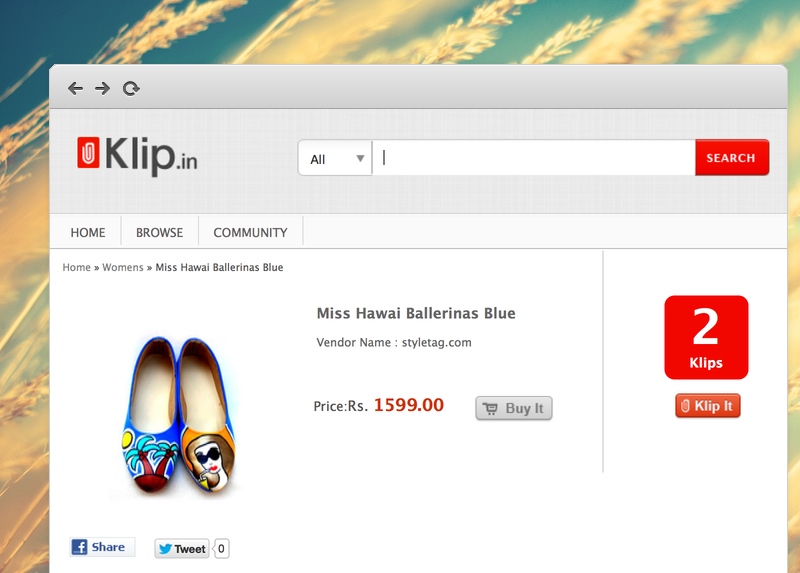 India's e-commerce industry is growing well and maturing nicely, so there are inevitably plenty of sites out there that curate the online shopping experience in a social way. One such place is Klip.in, which is a bit like Pinterest except that it's much more focused on shopping. Klip.in has just revealed that it now has seed funding to help it grow, which comes courtesy of the angel-backed startup accelerator VentureNursery. The exact funding amount isn't revealed.
So far, Klip.in has over 5,000 products curated from over 100 sites. Those 'buy it' links head to lots of top Indian e-stores such as Flipkart and Myntra. The social shopping site has nearly a thousand members right now. It's a modest start, but sites like China's Mogujie show the huge – and very profitable – potential of such sites to become social hubs for online shopping and therefore make boatloads of money from referral links.
Klip.in co-founder Harsh Gadia explains the site's value offering for Indian consumers:
Social media tools such as Digg that organize content and help users discover them have been growing for the last few years. We now see a similar opportunity in e-commerce, especially in the fashion and lifestyle product space. With 1,000-plus e-commerce sites and millions of products being sold online, product discovery is a huge challenge that needs to be addressed.
Gadia and co-founder Maneesh Madambath have been running a digital agency for five years, so they have the social savvy to figure out how to encourage people to share their potential purchases with their friends.
Last month, VentureNursery also put funds into the globally-oriented Interview Master service. Both it and Klip.in are graduates from the accelerator's latest batch of startups.
(Editing by Charlie Custer)