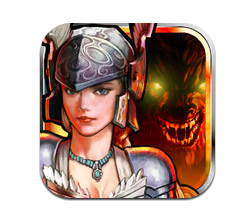 Sega's sequel to Kingdom Quest was recently released, and it briefly found itself at the top of the free iOS app charts in Japan yesterday [1]. I had not played the original, which boasts 3.5 million downloads worldwide, so I took Kingdom Conquest II for a quick spin this evening.
So far I'm enjoying the game a lot, although I'm finding it hard to label it as fitting within any single game genre. It has elements of city building, card battle, and live action 3D RPG. Players take on the role of a conquerer and are tasked with developing cities, assembling units of monsters which you use to attack other monsters, and acquire new territories.
The game tutorial is rather long and linear, and I suspect I would enjoy it more were there more 3D action scenes interspersed. The battle scenes are loads of fun, and its one of the few games I've seen which has a virtual d-pad that doesn't suck. The city building element is an interesting one, and I like social aspects of the game where you can cooperate with other players in the action modes. The small buttons can be less than responsive at times though, and I wish they were a little more forgiving.
While it is a lot of fun, I don't expect Kingdom Conquest II to chart very high globally. But I did find it interesting to see that in addition to this title, Sega's Hatsune Miku Live Stage Producer was doing well also. Currently sits just ahead of Kingdom Conquest II in second spot overall. Not a bad day for the folks at Sega!
If you'd like to give KCII a try, you can download it for iOS or Android. Screenshots can be found below.
---
Usurped by Google Maps today, it now sits in the third spot.  ↩