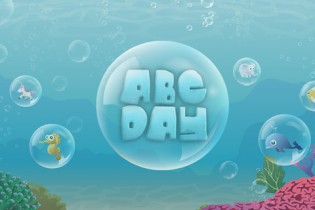 Recently I had the opportunity to meet with the folks at Hompimplay, a startup from Bandung, Indonesia, which develops educational mobile apps for children. Nieke, one of the team members, introduced me to one of its products called ABCDay, an app to help kids learn the alphabet.
ABCDay has four main features, each designed to help kids learn the alphabet in different ways. The first is reading. ABCDay teaches kids reading by associating letters with animals' names. The second feature asks kids to learn how to write (or more appropriately, draw) letters with their finger by dragging a turtle to stars configured in a letter's pattern (as pictured below). ABCDay also features a mini peek-a-boo game to help kids recognize letters as they sing along with the app's ABC song.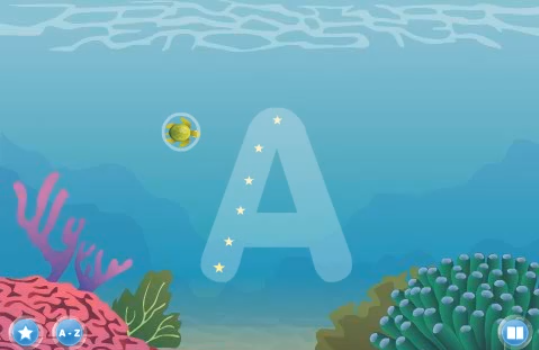 According to Nieke, ABCDay has received an award as the runner-up in the 'best Adobe Air app' category in the Blackberry Partners Fund Challenge which was held at the end 2011. Available for Blackberry, iOS, and Android devices, ABCDay has racked up more than 40,000 downloads in total. I think that this is a decent achievement, especially considering that it's a paid app. I also appreciate ABCDay's bold move to ambitiously target the international market with its first app.
Hompimplay itself was founded by Chandra WS and Surya Dr in 2011. Based in Bandung, the company now consists of five people and it expects to grow over time. In the near future, Hompimplay plans to release another app titled Jolly Jingle by crowdfunding on the AppBackr platform to raise funds. In addition to these two games, Hompimplay has also made several other works such as Egg Knock, Bawang Putih Bawang Merah (a story book), and Happy Boo-oween (an artwork). That's pretty good productivity for a team of five people.
You can check out ABCDay in the iTunes Store, Blackberry App World and the Amazon App Store. You can check out its video trailer here: