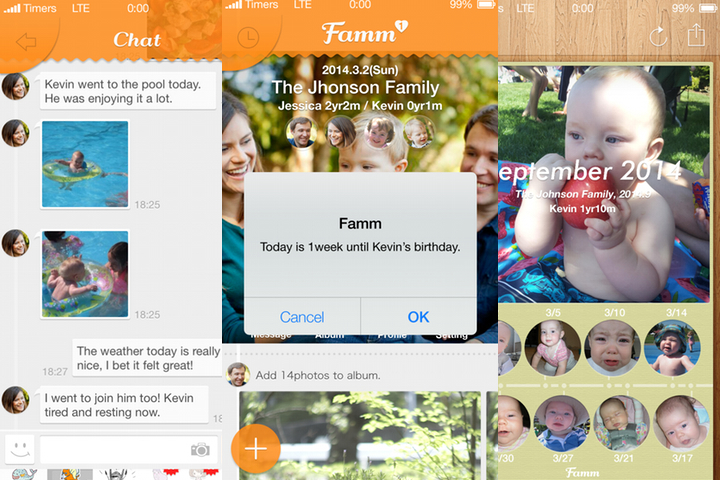 Timers, the Japanese startup behind couple's app Pairy, launched a new private messaging app for parents today. Dubbed Famm, the free app places a strong emphasis on sharing and storing photos that ensure parents never forget their child's early milestones.
"As open social networks like Facebook, Line, and Instagram become more and more popular, the demand for private photo sharing and messaging is emerging, too," said Timers CEO Toshimasa Takahashi. "The size of the traditional digital camera industry is also shrinking due to the spread of smartphones, and children's photos are now being taken mostly by smartphones – but there is no messaging app that focuses on child's photo sharing, so parents have to go back and forth between different types of apps for photo sharing, backup, and enjoying [their child's] growth record. We integrated all of these experiences into one app."
Much like Pairy, Famm is designed with couples in mind. A home screen greets users with a news feed tailored for two. Adding photos or posting comments sends push notifications to a user's partner. The app's messaging service is also modeled after modern standards, with free stickers to liven up the chat.
Famm's photo album calculates and inserts the child's age into each photo upload, as well as counting the number of days since his or her birth. It also automatically generates a photo collage each month that showcases nine photos from within that timeframe. This provides a retrospective snapshot of the child's growth progress, as opposed to fishing through hundreds (perhaps even thousands) of adorable, yet unorganized, photos.
Additionally, Famm Album allows users to upload 50 photos at a time while offering backup protection in the event that a user's mobile device is lost or stolen. Photos sent via Famm Message are also automatically saved to the album, removing the need to save each one individually (as is the case with many other apps).
Last but not least, photos that are "favorited" can be turned into a physical photo book for purchase. Koichiro Tawa, Famm's co-founder, told Tech in Asia that the company has two other plans for monetization – a paid premium service and targeted ads.
"Currently all of Famm's features are free, and we store all photos in the cloud," he said.
"We also have a plan to offer more features, like allowing users to upload movies as well."
Tawa added that the company hopes to attract 1 million users in Japan by the end of the year.
Timers, which is headquartered in Tokyo, has raised US$1 million from Incubate Fund, Itochu Technology Ventures, and East Ventures1 since its launch in June 2012. Pairy won the top prize at last year's Docomo Innovation Village demo day, as well as taking top honors at Fuji Television's last Fuji Startup Ventures (FSV) meetup.
Famm joins several other photo-focused apps in the for-parents market, including InstaB (which now incorporates a Q&A function) and Babygram (also focused on private sharing with a partner or immediate family members).
Curious parents can download Famm for iOS. It currently supports English, Japanese, Chinese, Korean, and Spanish. The company plans to offer an Android version in the near future.
---
Disclosure: East Ventures invests in Timers and Tech in Asia. Please see our ethics page for more information.