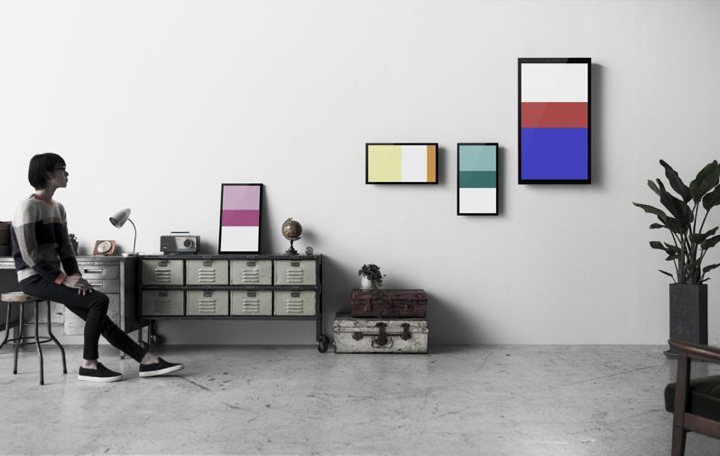 Digital photo frames are nothing new and, frankly, not that exciting. Sure, the relatively small and plasticky digital photo frames at your local big-box electronics store work for so-so resolution photos of the family vacation, but you'd hardly consider such a device for displaying actual artwork. Enter Framed, a TV-sized digital art frame that is so focused on gallery-caliber design that it comes with its own digital art marketplace.
Framed debuted on Kickstarter this past Monday. The Tokyo-based crowdfunding campaign reached its goal of $75,000 in just five hours and is fast approaching the US$200,000 mark.
"We certainly didn't expect it to hit this fast," William Lai, Framed co-founder and CEO, tells Tech in Asia. "It's great for the [digital art] community and we're really excited."
Lai, formerly an indie-label music producer, runs product and business development for Framed from Taipei. His Japanese co-founder and creative director, Yugo Nakamura, is an award-winning designer and architect who's served clients that include Louis Vuitton, UNIQLO, MUJI, and NHK.
Can the duo meet the outsized demand for their product – currently hovering above US$185,000 with 28 days to go? Lai isn't worried:
Our partner suppliers are more than capable of handling this sort of volume. We're just glad they're on our side. There's always invariables when it comes to producing real tangible objects – but we have now three years under our belt. It was a painful, but critical learning process for us.
Fit for a gallery – or a posh living room
Framed is available in three sizes: 24-inch (US$399 minimum pledge), 40-inch (US$1,500 minimum pledge), and 55-inch (US$10,000, limited to three backers). Each is wrapped in walnut (with other materials available for custom order) and features a 1080p HD IPS display with 16.7 million colors and a 180-degree viewing angle. Instead of relying on a touch interface, Framed integrates motion sensors that allow viewers to control the device – selecting which image to display, for example – with hand gestures.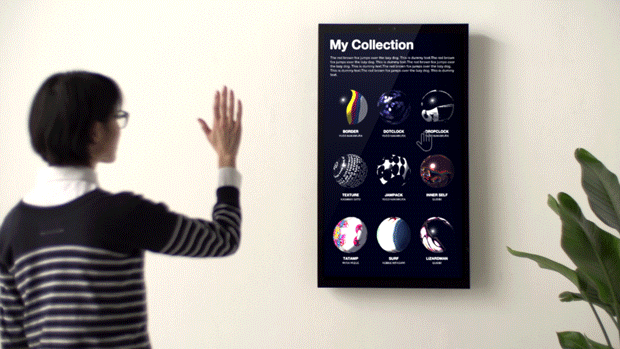 A companion iOS app can also be used to control and interact with Framed. New artworks can be swiped from a user's iPhone to the display in a similar fashion as using Airplay for beaming music to your speakers.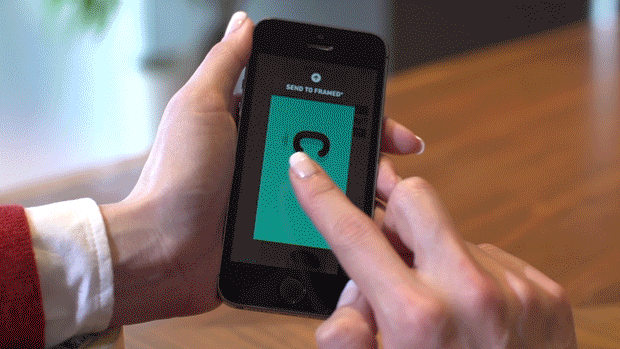 Additional hardware specs include a quad-core CPU (up to 2.4GHz), integrated HD graphics (up to 854MHz), 802.11 b/g/n wifi connectivity, a 720p camera, 2x stereo speaker output, and mono microphone input. Framed supports multiple picture and video formats, including GIFs, Flash, and openFrameworks.
See: Crowdfunding in Japan: waterproof coating, stackable circuit boards, and 'good smelling balls'
An artwork app store
Framed is more than just a pretty piece of hardware – it is the vehicle for an online digital marketplace that will sell the kind of high quality artwork that it was built to display. Artists will be able to publish and sell their own digital designs, like an App Store for art.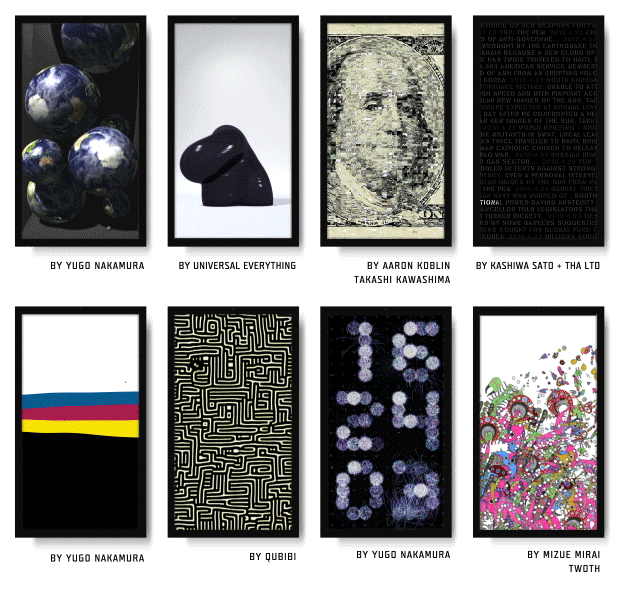 "The screen is nice, but the art and the community is much more interesting," says Lai. When asked about how many artists and individual works will be available by the time Framed starts earlybird shipping in November, he adds that, "A good percentage of our backers are in fact artists themselves so we will have to wait and see – we simply provide the tools for creators to publish their work so issues with price, editions, copyright, are all set by the creator, and we simply act as a courier."