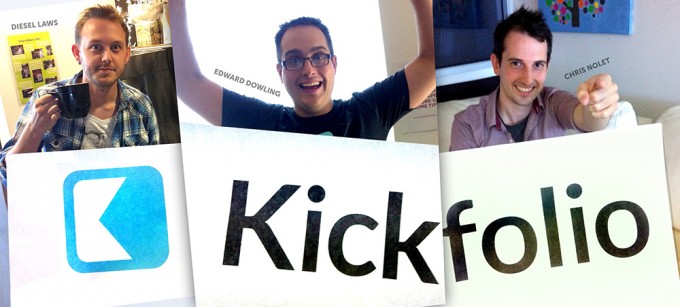 What's better than kick-starting the day with a double-dose of good news? Our friends over at Kickfolio, a Melbourne-based startup that allows you to create kickass portfolios within 30 seconds, has recently closed its seed round of $50,000 from PalGenesis and been selected to join 500 Startups, which brings another $50,000. Both of those happened on the same day.
It all happened when the team was speaking with its new advisor from New York City back in late September. They received a call from Dave McClure that the startup was selected for 500 Startups. I can imagine the level of excitement in the office when they were also offered another US$50,000 from PalGenesis, thanks to the advisor, within that very same day.
Some readers might recall that we covered Kickfolio before. Since then, the team has made two significant improvements to its product. Co-founder Chris Nolet tells us:
[First] is that we've refocused the product on a new, incredibly strong pain point. […] We now help developers distribute 'test builds' (or beta releases) to their clients via a web page, with the Kickfolio technology providing an interactive experience, right there on the page. People can test the app, live in their browser. There's no mucking around with UDIDs or downloading the app. Testers or clients can leave comments. We also record the last 30 seconds of their usage so developers can see how people are using their app. That's our first strong use-case, and we'll shortly branch back to marketing once we're established and bootstrapped.

[Two,] we've rebuilt the technology stack from the ground up and it flies. This is easily the smoothest experience we've created to date and we're especially proud of it. We really looking forward to showing it off.
I absolutely adore the Kickfolio team, not only because it's got a great product, but because it has adopted a "Think Bigger" mindset during its pursuit of great mentorship and opportunities in the United States. The startup's decision to move to the US was propelled by their visit back in September. In Chris words:
As Australians, we tend to downplay our abilities and successes, and we generally aim lower than American entrepreneurs.
Perhaps another reason driving the move was due the lack of funds available in Australia. Chris elaborates:
We have, for example, noticed the incredible focus here on traction and growth as opposed to revenue and profitability in Australia. Silicon Valley is much more prepared to have a runaway success with millions of users, which then gets acquired – as opposed to VCs in Australia who look at 'money in, money out' to judge a company's viability. We're lucky enough to be able to switch between those points of view on a whim now and we think we have a wonderful mix of both.
Now that the team is in Silicon Valley, it is not letting any chance of succeeding slip by. Chris tells us:
We want the Kickfolio brand to [be] pervasive at the end of 500 Startups, and synonymous with cutting-edge technology, practically applied to make mobile developers' lives easier. We intend to be bootstrapped by the end of the program (or close to) and we want to meet more great people with new ideas about how we can our apply our tech.
And no, the team isn't just stopping there. The boys are intending to sponge as much knowledge as possible from the Silicon Valley startup culture, and contribute back to the Australia startup scene. Chris adds:
The scene in Melbourne is young and emerging and we hope many more people will hit California, learn from people like Dave McClure and Paul Singh, and bring that knowledge back to Australia to feed the next round of Aussie startups.
This is certainly encouraging for the Australia startup scene, especially since most students choose to pursue the comfortable corporate route upon graduation. It definitely takes time to build an ecosystem, but undeniably, there's a lot of potential in Australian startups with their mindset of "thinking bigger".
Aside from Kickfolio, another two teams from Asia which have made it into 500 Startups include Japan-based Cinemacraft and Taiwan-based Cubie App.
[Kickfolio team photo from diesellaws.com]