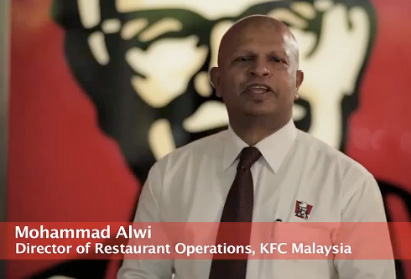 We've been tipped off by @Askaaronlee on a recent social media disaster at KFC Malaysia that was caused by two scandalous videos of several KFC employees.
But many might not have realized that such a big problem was brewing at KFC Malaysia since the fast food chain's PR folks, in my opinion, did a pretty good job in handling the case.
The social media disaster started last October when someone sent a video clip to KFC Malaysia that shows a staff member tampering with the food while preparing it. We did a quick search and found these two videos, which likely show the offending incidents:
---
YouTube Disaster
---
In response, KFC Malaysia reported the incident to the police and at the same time did an internal investigation. But unfortunately for the company, the video was uploaded to YouTube on June 25th. The video disgusted many viewers, and they voiced their concerns across the web. Some of you might recall a similar fiasco suffered by Domino's Pizza several years ago.
---
Using Facebook and YouTube
---
KFC Malaysia acted swiftly. The team launched a
Facebook tab
which contains two new YouTube videos addressing the problem, and set up a Frequently Asked Questions (FAQ) section to anticipate questions that anyone might have.
In one video, En. Mohammad Alwi, KFC Malaysia's Director of Restaurant Operations, made a personal address to the public in two languages – Malay and English. In the video, he apologizes and ensures customers that KFC Malaysia has taken action to prevent the same incident from happening. Here's how:
Cameras in kitchens: KFC Malaysia has installed cameras to make sure that the kitchen team can be held accountable for their actions.
Appoint supervisors: One lead cook will be appointed at every kitchen to supervise the food preparation process.
Improve the training program: The training program will be made more rigorous to ensure employees understand the value of KFC and food hygiene.
---
Embracing the Web
---
Alwi also invited enraged netizens to the KFC Malaysia Facebook page to voice their concerns, a smart move which might have won over many critics. Admittedly there are
many complaints in the discussions section
, but the frequency of negative buzz on the Facebook page is dying down. The incident may come to a graceful close in the next couple of days if nothing major is reported.
KFC was wise to embrace the web (where news of the problem initially took off) to make amends and welcome feedback — essentially fighting fire with fire, so to speak. The video communicated its apology and took steps forward succinctly and responsibly.
Hopefully, KFC Malaysia will keep to its promises to prevent a similar thing from happening again. This is a good case study in crisis management in a social media setting that many companies would do well to examine.