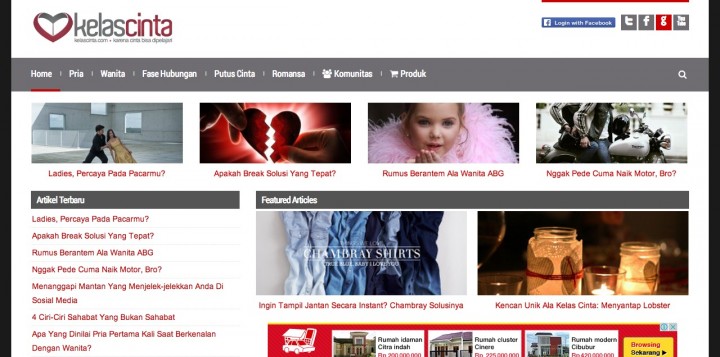 Single guys in Indonesia often lament, "There's a lot of beautiful girls out there, but none of them like me." Worry not, folks, because KelasCinta (which means "love class") wants to be the one-stop answer for your dating, romance, and relationship questions. It is run by Hitman System, an offline training company which has been teaching Indonesians how to find love since 2006.
Co-founder and CEO Jet Veetlev1 explains that KelasCinta is "a portal for all romance dynamics, from pre-relationship, relationship, post relationship, man and woman dynamics, and the art of love itself." Visitors can find hundreds of love-related articles on issues such as fashion tips for both genders, long-distance relationships, and mending heart breaks. The site also has a user forum where people can talk about love.
Started in August 2013, KelasCinta has accumulated over 4.8 million page-views from 590,000 unique visitors so far. The startup currently monetizes from writing featured articles which promote places for a romantic dinner, as well as fashion items for men and women.
KelasCinta is positioned to be a more mainstream advice portal compared to Hitman System's previously male-targeted content. The team has grown to 14 employees.
There's also a store tab on KelasCinta, but users will be redirected to Hitman System's website which monetizes through workshops, seminars, audiobooks and e-books. Veetlev explains that they want to separate KelasCinta from Hitman System in the long run, and will launch a native romance store inside KelasCinta in the coming months. This online store will sell products "that can enhance your romance adventure," explains Veetlev. That would include certain kinds of clothes, accessories, and romance books.
Another plan the team has is to launch an official app for KelasCinta mid-year. Aside from articles, the app will also have a Q&A feature where users can ask the board questions related to their love problems. Users can also get coins through in-app purchases and online activities, which they can use to pose tough questions to Hitman System's professional coaches.
This new site is not alone on the Indonesian web. There are male-oriented information portals like TalkMen and Bachelora, while women have Vemale and Female Daily. But KelasCinta is unique in that it specializes in everything related to love and relationships.
With Valentine's day soon upon us, I asked Veetlev what advice he'd give to Tech in Asia readers:
Hahaha, yeah, do celebrate Valentine's with your partner! But don't make it that special. Valentine's Day is way too overrated these days, and people put too much emphasis on that day, which makes the day feel more like an obligation than a celebration! If you are not single, yes, have a simple dinner with your partner, but my advice would be do it on February 13. It would be your own Valentine's. On a side note, we started Hitman System on February 13, 2006!

For [singles], don't sulk or cry or "nyinyir" on that day. The fact that you are alone doesn't mean you can't be happy. Valentine's is for all, then do celebrate it with all the people you care about.
(Editing by Steven Millward)
---
Apparently, all Hitman System instructors use nicknames.↩