China has a slew of companies, freelancers, and consultants who want to take your money in exchange for getting your foreign business rolling in China. Areas of expertise include legal, talent search, distribution, language, and server hosting, to name a few. Now you can add social media to that list.
Kawo takes the content from your western social media – Facebook and Twitter – and puts it on Chinese social media – Weibo and Renren. Their service is more than just translation, though. The process is half automated, half human. The first half aggregates your Western posts onto a dashboard and filters out posts with keywords defined as "sensitive" by Kawo's Protect software (e.g. My company loves democracy and families with lots of babies #DiaoyuIslandsBelongToJapan). The staff then screens for sensitive info again, translates the post into colloquial Chinese, and takes special care to speak in a "local voice."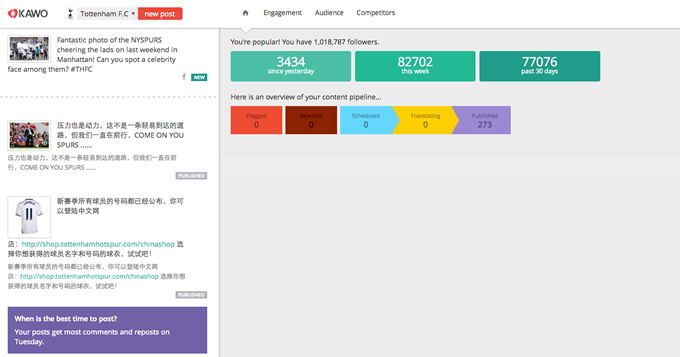 In addition to building your social media campaign in China, Kawo also keeps tabs on you and your competitors' performance. Companies can learn about their demographics, activity, engagement, and key influencers in China. Not gaining the traction you want? Kawo is working on a service called Kawo Broadcast, wherein you can pay for endorsement via retweets from China's leading bloggers.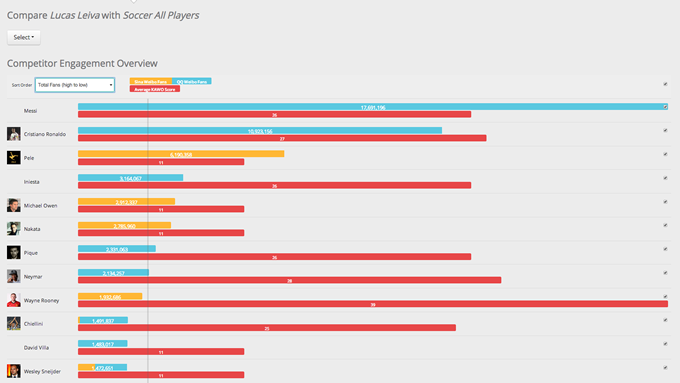 The company already has some big-name clients like AMG, Cirque Du Soleil, and the Manchester United and Liverpool football clubs. The real-time stats on its homepage says the service has reached almost 3.4 million fans for client companies, translated more than 1,500 posts, and tracked about 15,000 clicks.
Kawo's services cost anywhere from $199 to $3,000 for different tiers. Company CEO Andrew Collins says Kawo specializes in education, gaming, entertainment, travel, and sports. He says he hopes to achieve $2 million in revenue by June next year, and $12 million in three years. The company received a $500,000 investment from parent company Mailman Group, a sports-focused social media company with a startup fund, which was also supported by other investors.
(Editing by Willis Wee and Steven Millward)