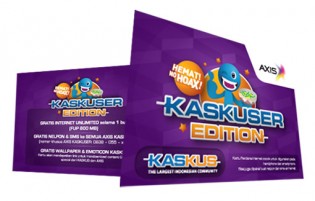 Indonesia's biggest online forum Kaskus, together with telco operator Axis, launched Kaskus SIM cards last week. They are priced at hefty IDR 50,000 ($5.20) but promise features like free calls and SMS to other Axis numbers, as well as unlimited internet for one month. Those bonuses can be extended for a fee of IDR 40,000 ($4.20) in the coming months.
Interestingly, Kaskus' SIM cards use a special 0838-055 number (055 stands for 'KK,' meaning Kaskus). Other bonuses can be seen here.
In addition, buyers will also receive a free one-day ticket to Kaskus' gathering session called Jelajah TKP, which will be held to celebrate the company's 13-year anniversary this month. The event will take place at Plaza Barat and Tennis Indoor Senayan on November 24th to 25th.
This is the first time ever that these Kaskus' edition SIM cards have been sold. For more information about the session and about the users' reception on the new card, you can check them over at the Kaskus' site.
[Via IndoTelko]