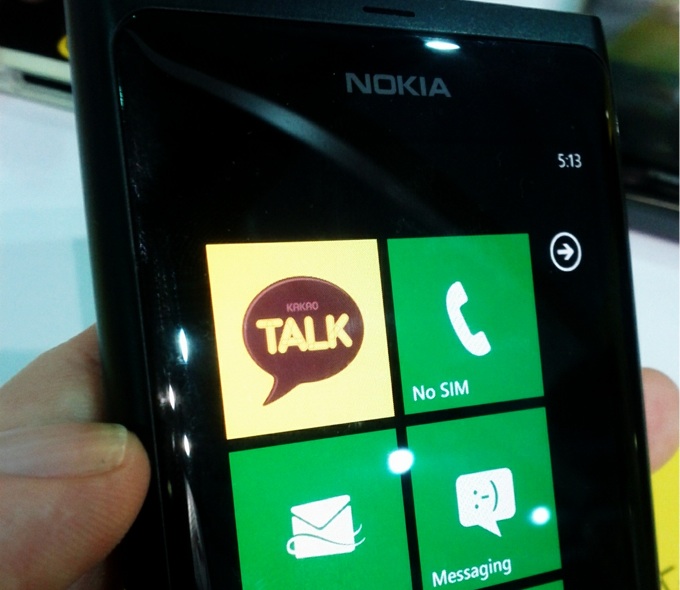 KakaoTalk, the Korean-made messaging app that's proving a hit at home and across Asia, now has a version of its app for Windows Phone (WP7) devices, which will go live in the Marketplace today [UPDATED: The app is here]. I got a chance to play with it on a Nokia Lumia (pictured above – with hands-on images below) yesterday, and saw how all its cutesy and useful features – like animated emoticons, free voice calling, and zany voice filters – had made their way onto the new platform.
While getting hands-on time with KakaoTalk for WP7, the company's head of global support, Yujin Sohn (pictured below right), gave me a run-down of some updated big numbers: 50 million users, of which 24 million are active daily; 90 percent of smartphone users in South Korea now use KakaoTalk; and an average of 90 items (be it text, emoticons, images, etc) per user are sent each day, causing 1.4 billion daily messages to be fired off from within the app. That's up from one billion per day from back in January.
The WP7 debut brings the total of platforms on which it is present up to five, alongside iOS, Android, BlackBerry, and Samsung's Bada OS.
From Messaging to M-Commerce
The company behind the group messaging app is already turning KakaoTalk into a platform that will soon have four core elements. The newest will be the long-awaited Game Center which is due "three weeks later," in about the middle of July. That will bring a range of games inside the social app and will include, I'm told, some international gaming companies that cannot yet be identified. The three other monetization areas are in action already: advertising and media content, virtual items for sale, and mobile commerce wherein you can gift certain goods to your friends – or buy for yourself – within the app from a range of partners. Within all that is the ability to follow brands – called "Plus Friend" – and get useful things like discount coupons. So far, Yujin explains, the partner brands have an average of 360,000 followers.
That gifting function is available only to users in South Korea right now – indeed, 80 percent of its users are in the country where the app is made – since a couple of Korean telcos are actually responsible for arranging the big-name retail partners, and also power the mobile payments. But it's an area the company wants to expand worldwide, so that you can gift a friend anywhere a cup of coffee from within the app.
As for the media side, the Kakao folks are keen for the social app to be a broader resource as well, such as for fun news and celebrity engagement. One of the most popular areas of its content is K-pop (Korean pop music), with many KakaoTalk users following their favourite stars somewhat in the manner of Twitter – though in a more one-sided way. But there are discussions afoot with agents to have some stars become more accessible in some predetermined way within the app.
Tackling Tencent
China's Tencent (HKG:0700) owns 14 percent of the Korean startup after a 400 million RMB ($62.9 million) investment in May. Yujin says that the two entities have a lot to offer each other and denies my suggestion that Tencent's stake might be a danger (since Tencent runs WeChat, the world's biggest group messaging app with 100 million users), and points out that China isn't a focus for KakaoTalk at the moment. But the two companies do have clashing interests in a lot of other Asian markets where they'd both love to grab all the young smartphone users, such as in Indonesia.
Another strong competitor is NHN's Line app, which is growing at an even faster rate than Kakao's product, and will open a gaming platform later this year as well.
The new KakaoTalk for WP7 will hit the Marketplace today, and we'll update with a link soon [UPDATED: The app page is here, but it's still not searchable in the store]. You can see it in action by clicking the photos below which I snapped yesterday. But Chinese WP users will have to wait two weeks for the app to appear in the China locale of that app store, due to Microsoft's regulations for China mandating a separate version of the app being made.
(Readers in Shanghai who're at the MobileAsiaExpo can head to the KakaoTalk booth in hall N2 to play with the WP7 version of the app).