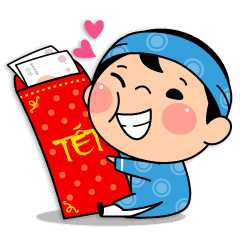 KakaoTalk, South Korea's number one messaging app, has released new stickers for the Vietnamese market this week. With Vietnamese New Year just around the corner, the stickers feature classic Tet images. The stickers will be especially welcome in a market where no other messaging apps – such as WeChat or Line – provide such Vietnamese specific imagery.
The move is part of KakaoTalk's push into the mobile-oriented Vietnamese market. The messaging app market in Vietnam is still growing, and there is no clear dominant platform so this is a big opportunity for KakaoTalk. In South Korea, KakaoTalk has over 90 percent of the market and "KaTalk Me" is a common colloquialism. Koreans no longer say "Text Me", as paying for SMS seems too passé.
Currently KakaoTalk's Vietnamese userbase is over 150,000 people. KakaoTalk is relatively new compared to services like Whatsapp, Viber, and WeChat. But the startup has taken a shine to Vietnam, making it the third country outside of Korea that has a dedicated KakaoTalk team after Japan and Indonesia. Armed with Vietnamese-specific stickers for the lunar new year, the battle is on.
KakaoTalk's worldwide user numbers today exceed 72 million.