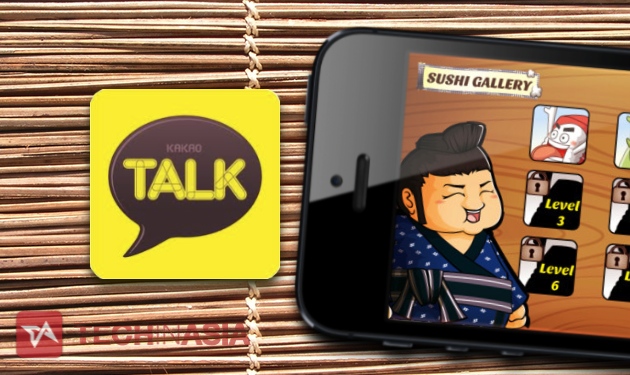 Korean-made messaging app KakaoTalk launched its Game Platform on Android in its home country last July – and today that social gaming system is rolling out on iOS and coming to Japan as well. It's a major challenge to chief rival Line app, made by NHN Japan, as well as to other social gaming platforms from that country, such as GREE and DeNA's Mobage.
For KakaoTalk users, it means that they now have six iOS apps by third-party developers that are tied to KakaoTalk's social gaming network. As pointed out by Serkan Toto today, those titles are: Tap Tap Blitz, Puzzle Zoo Zoo, Sushi Panic (pictured above), Zoo Zoo Bubble, and Pocket Colony.
Mobile gamers in Japan will also have access to the KakaoTalk Game Platform in a bunch of supported Android games. Those include SundayToz' Anipang, which was the first success story on the KakaoTalk platform as the messaging app's users proved to be keen gamers who downloaded Anipang over two million times in a couple of weeks. That soon made it the second highest grossing game on Google Play in South Korea.
KakaoTalk is hoping to have 100 games on board by the end of the year.
Global ambitions
This push into Japan is supported by Yahoo Japan, which owns 50 percent of Kakao Japan, the messaging app's subsidiary in that country.
In the huge battle for mobile messaging users, KakaoTalk has over 70 million users, up against Line's crowd of 100 million. Line also incorporates social gaming, and has likewise spurred on some games to great popular success. It's not quite so balanced in Japan, however. Serkan cites The Nikkei as saying that KakaoTalk has seven million users in Japan, while NHN's Line has 41 million of its total user-base within Japan.
Interestingly, the Kakao company was founded by Beom-Soo Kim, the former CEO of Korea-based NHN Corporation, which later went on to spawn Line app from the NHN Japan subsidiary.
Both Line and KakaoTalk have global ambitions, with the two rivals looking to young and mobile-oriented Southeast Asian users at first. Countries like Taiwan and Indonesia have proved to be particularly strong battle grounds for the apps – though neither provide social gaming in those nations.
(Source: Serkan Toto)