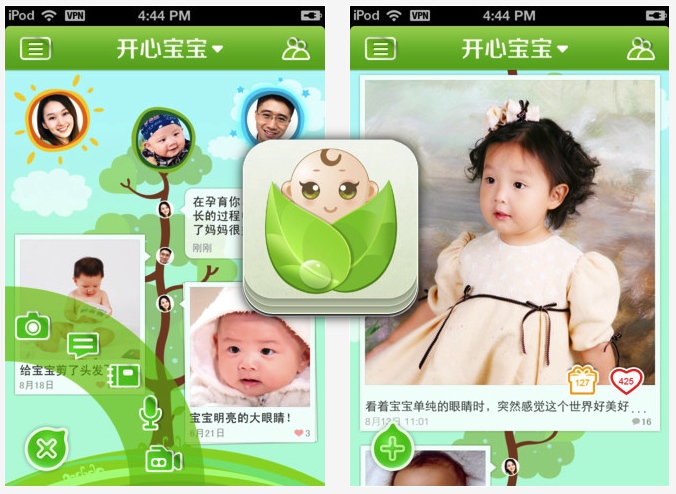 Kaixin, one of China's earliest Facebook-style social networks, might be struggling to stay relevant, but at least it's growing with its users. Now figuring that its late-teens/early-20s user-base is all matured and turned into baby boomers, Kaixin yesterday launched a parent-oriented photo diary app called Kaixin Baby.
Kaixin Baby (correctly predicted by recent rumors) comes with an iPhone app as well as a dedicated site at kaixin001.com/kxbb. The central motif of the app is a tree that grows in height as the baby does likewise, and on that tree hangs photos, videos, or voice notes posted by the parents. Other friends and family members can also be invited in to post within an account, which sounds like a nice touch.
The Kaixin Baby app integrates with the regular Kaixin site, and also features a parenting portal with a selection of baby-care tips and general parenting news.
We've been seeing quite a few parenting diary apps this year, such as Japan's Daiby (which offers paid printing services), or Chinese rival Miidooo, which looks great but lacks any smartphone apps.
Last time we looked at Kaixin, the company said it had 130 million registered users, and was seeing rising revenue – all despite being dwarfed by rival Renren (NYSE:RENN) and the emergence of the Twitter-esque Sina Weibo and Tencent Weibo in recent years.
Kaixin Baby is free in the iTunes App Store.