You'd think that cogs, ticking hands, and Swiss precision have no place in a smartwatch, but the Kairos Watch will make you think again. It'll also make you do a double-take as you see the ticking metal hands suddenly vanish beneath an incoming tweet.
One moment it looks like a really nice mechanical watch: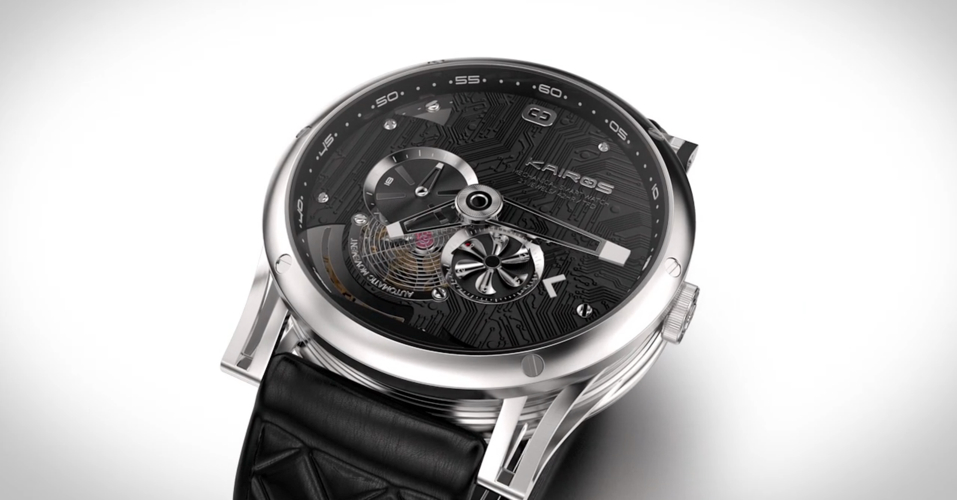 And then this happens: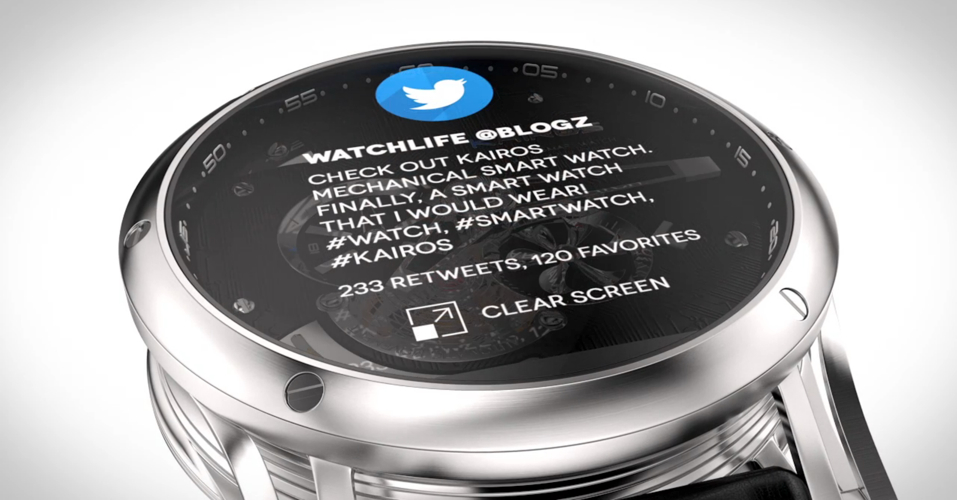 "Imagine a Hublot smartwatch," says Sam Yang, the founder of Kairos Watch. That's what the South Korea-based startup is aiming at. He says that once the chunky watch comes out, there'll also be an SDK so that app developers can push useful notifications to it. The watch's face, which looks like clear glass when nothing's beamed onto it, will show notifications for SMS and email when tethered to your phone. It'll also show activity on apps like WhatsApp, Line, and WeChat once they get integrated.
Kairos Watch is one of ten startups pitching at our Startup Arena contest here at Startup Asia Singapore 2014. Onstage, Yang is giving the technicalities to the audience and the judges: there's BlueTooth support, a battery that should give five to seven days of regular use as a smartwatch, and – the most remarkable bit – a 1.1mm thin TOLED (Transparent Organic Light Emitting Diode) display that's clear but turns 60 percent opaque when a notification springs up.
Luxury appeal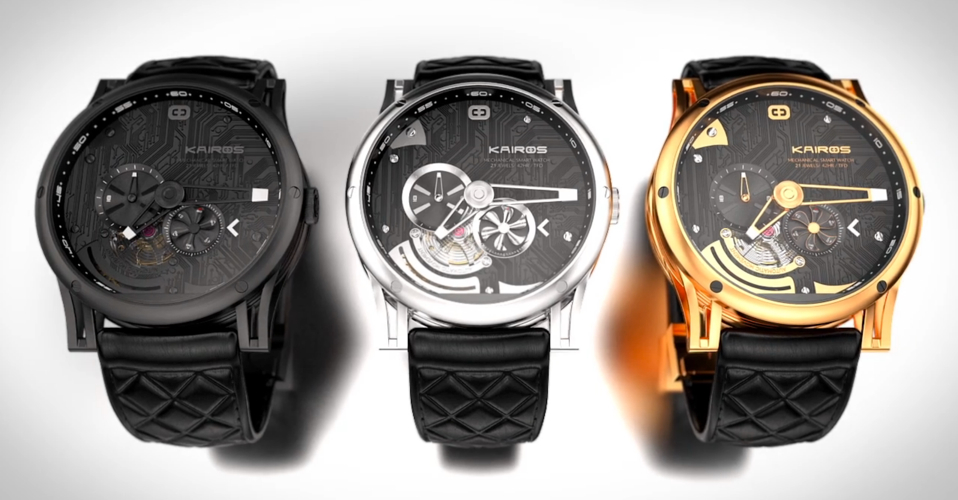 The screen isn't the only shocker – there's also the price-tag. All those Swiss-grade cogs and hands mean that this hybrid smartwatch will cost from US$1,100. Pre-orders open on May 15 for just $499, though that reduced price will only last for one or two months. The Kairos Watch will start shipping to buyers in December this year, so there's quite a long wait – but it'd make a great Christmas gift.
The startup is using quality parts, says Yang is his onstage pitch, including a Japanese automatic movement supplied by Miyota, a subsidiary of Citizen. Kairos will also offer the option of a Swiss movement from SOPROD. (updated: Earlier version of article incorrectly stated that it uses a quartz movement). Indeed, Citizen or Tissot is a fairer comparison for the Kairos Watch than Hublot, since the luxury Swiss watch-maker produces models that can cost north of $10,000. But the Kairos is still an imposing piece of kit when seen on the wrist.
(See: REVIEW: Can China's coolest smartwatch best the likes of Samsung and Sony?)
Yang says Kairos is aimed at horologists – proper watch enthusiasts – rather than the usual smartwatch crowd. The watch will be sold at luxury watch shops, not gadget malls. "As smartwatches become more and more popular, consumers may become more and more dependent on their features," Yang explains. "They may still have a Hublot or Rolex in their drawers but they may skip on wearing their 'everyday watch' for a smartwatch." And that's where Kairos wants to leap in. Interested investors can contact Kairos via its Techlist profile.
The panel of judges asked a lot about the level of progress in the Kairos prototype and about funding. Yang showed off images of a rough prototype, but there was no live demo. The startup is looking to raise $1 million at this early stage.
An entrepreneurial rollercoaster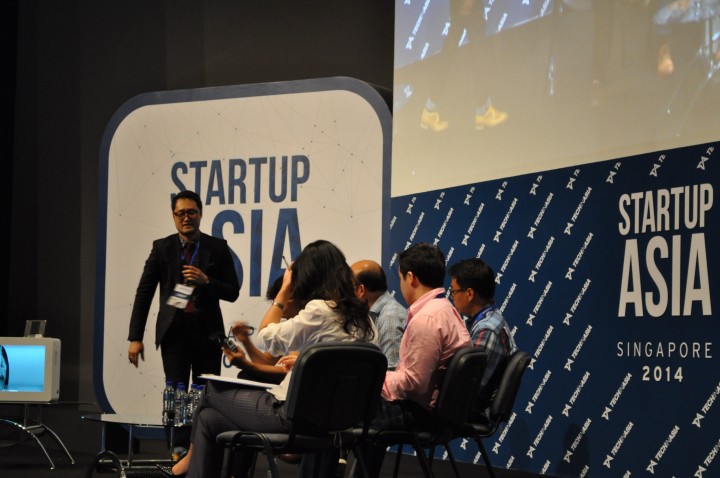 This won't be Yang's first startup – or his first foray into hardware. He says he's had a rollercoaster ride in entrepreneurship since his first venture at the age of 19. "If failure is the mother of all successes, I think I've had several moms," he quips. His biggest venture to date was in hardware, starting car alarm-maker Zenesis Electronics in 2006 and then selling off the brand a few years later. Under new owners it closed in 2012 after being hit by the global economic downturn.
Now Yang's ready to put all those 15 years of startup experience and combine all the areas of his expertise into Kairos Watch – "the software, hardware, mechanical engineering, design, as well as business experience."
Stay tuned to the blog later this afternoon to see which of the 10 teams won the giant cheque at Startup Arena. (update: Kairos came in second place).
This is part of the coverage of Startup Asia Singapore 2014, our event running on May 7 and 8. Check out all the Startup Arena pitches here. You can follow along on Twitter at @techinasia and on our Facebook page.