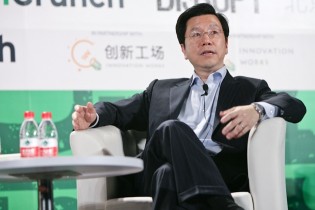 Readers with a sharp memory may be reading that headline and thinking, "Wait, didn't we already know that?" and the answer is that yes, we did. Sort of. As we previously reported, Kaifu Lee announced several months ago that Innovation Works was interested in television and would invest in LeTV. Now, thanks to an official announcement from LeTV CEO Jia Yueting, we know that that transaction has been completed, and we know more details about the deal.
In actuality, Innovation Works is investing in one of LeTV's subsidiary companies. The company, called LeTV Zhixin, is responsible for the hardware and software for all of LeTV's television operations (meaning the building of the LeTV super TV itself, not the operations of LeTV's video streaming site). It's not clear what percentage of that company is now owned by Innovation Works because both sides signed a confidentiality agreement, but LeTV Zhixin reps confirmed that the investment funds were already in hand and that the deal was totally finalized.
LeTV has been pivoting towards television hardware and software for some time now, and the company's COO says that it hopes to do for the smart TV market what Apple did for the the smartphone market. We've yet to see any LeTV Super TV hardware, so it's not clear whether the device has that kind of revolutionary potential, but the attention and investment from Kaifu Lee are certainly an indication that LeTV Zhixin is working on something interesting. We hope we get a chance to see it soon.
[Beijing News via Sina Tech]