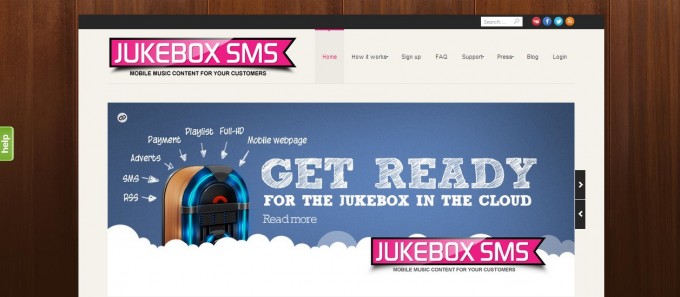 Two Swedish entrepreneurs, Peder Wahlberg and Gustav Evertsson, are hoping to bring back the Jukebox era with Jukeboxsms.com. The startup, which was launched yesterday, provides a modern jukebox experience by using a HD screen and computer. The owner can then earn money from paying customers who request a song through their handsets via PayPal or SMS.
The service is available in 70 countries worldwide, complete with localized languages and payment methods. Here in Asia, music fans in China, Japan, Indonesia, Singapore, Vietnam, Philippines, South Korea, Thailand, and Malaysia will be first to have access to Jukebox SMS. You can check here to see the full country coverage.
To set the jukebox, you need the afore-mentioned HD flat screen or projector, and a PC with an internet connection. Then sign up an account at music cloud service Audiobox.fm, organize your songs, and you should be okay. Peder said that owners can freely decide the price for each song ordered by the customer via PayPal, but they may have some freedom taken away as SMS payment provider Fortumo (which handles SMS payment outside of Sweden) might have fixed prices for the service. This fixed price policy is different from country to country.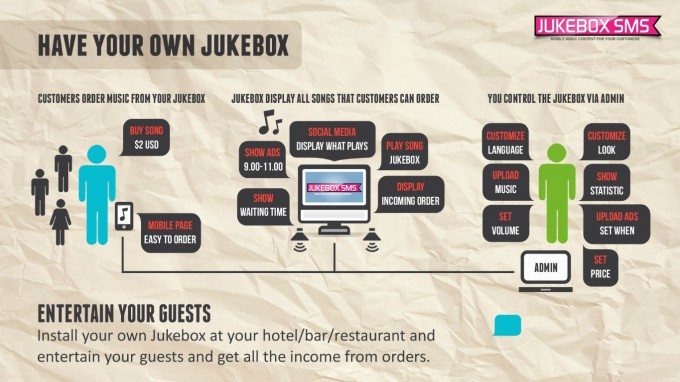 When I tried the Indonesian SMS payment service on Jukebox SMS' demo page, Fortumo charges IDR 8,800 (90 cents) for each song. I think that's quite a steep price for a country that is accustomed to getting CDs for as cheap as IDR 5,000 (50 cents). Though I agree with Peder when he said that there will always be a market for Jukeboxes in the world.
The customers can browse and order songs through their phones and can even set the music volume if they want to. Peder said that he got the Jukebox SMS idea first when he and Gustav needed an online jukebox where people can order the songs through their phones for an event. But since they were not able to find one, they created this service instead.
The team will continuously update the jukebox with new features and payment solutions. He promises that any new updates will be simultaneously available to all countries worldwide since the startup's service is cloud based.