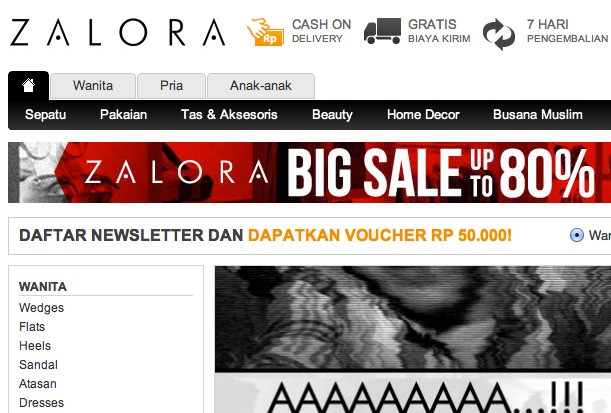 Fashion e-commerce site Zalora has officially confirmed today that JP Morgan has invested in the site. JP Morgan seems to love Rocket Internet products, and has also made investments in some of Rocket's other sites. It comes just two weeks after JP Morgan backed Lazada, the Asia-oriented Amazon clone. The bankers have become the latest addition to Zalora's current list of investors – Rocket Internet, Invus, and Summit Partners. The investment sum for Zalora has not been disclosed.
Zalora operates in six countries – Singapore, Malaysia, Thailand, Indonesia, the Philippines, and Vietnam – and started up at the beginning of this year.
Despite this funding, everything might not be so rosy at Zalora. Back in April this year we heard that Rocket's Oliver Samwer flew in to motivate the team, and that Zalora was being hit by floods of user complaints in some nations – especially from users in Singapore and Malaysia who were waiting a week or more for items to arrive.
Catherine Sutjahyo, the co-founder of Zalora Indonesia, said in today's announcement that she felt honored to welcome JP Morgan into Zalora's group of investors. Catherine believes that this investment shows that Zalora's strategy to position itself in the Asian e-commerce fashion market is working very well.
Looking at one country in particular, Zalora Indonesia also shared some recent statistics:
There are more than 400 local and international brands that are working with Zalora. The e-commerce company offers more than 20,000 products to its Indonesian customers.
Zalora Indonesia employs 200 people with a 5,000 square-meter distribution center located in east Jakarta.
Zalora has over 70,000 newsletter subscribers in Indonesia with 100,000 Facebook fans.
Recently, Magnus Ekbom from Lazada told us that there are no changes being made to its operations after JP Morgan's major investment in the company. Will the same thing apply for Zalora? Let's wait and see.