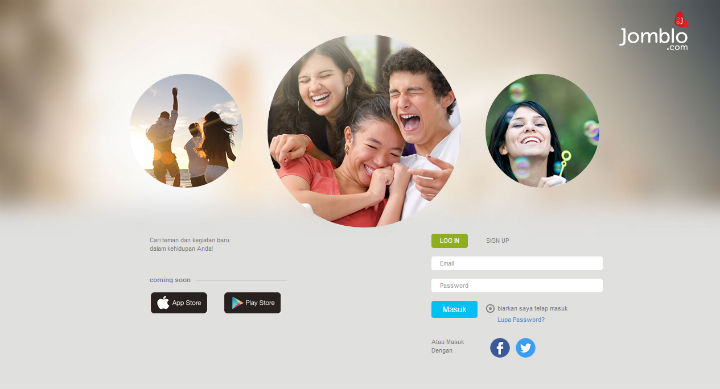 Social networking site Jomblo launched yesterday in Indonesia. To keep you in the loop, the word "jomblo" is the new trending word for "single" in Indonesia, so that good domain name definitely draws a lot of curiosity.
Jomblo wants to be a social dating site for singles, but at the same time it wants to be an online platform where single people can meet new friends based on interests.
The social dating feature reminds me of the old Friendster. Users can search friends based on interests, and then engage with them by sending friend a request, messages, or clicking the 'like' button with a heart icon next to it 1. In the future, Jomblo wants to launch a matchmaking feature that matches user profiles based on an algorithm.
The other two features on Jomblo are finding online communities and activities based on similar interests like watching movies or bowling. Co-founder Darrick Rochili explains the reason behind this move:
We want to focus on reaching the singles who tend to be 'galau', or 'depressed,' when they don't have a partner, and instead encourage them to meet new people and communities through Jomblo.com.
Open to dating focus
So despite the very dating-oriented name, it's not entirely a dating website. The team emphasized the additional non-dating features to make sure everybody's on the same page. I could be wrong, but rather than spending so much effort distancing Jomblo from dating sites in the coming months, it'll be much easier to just become a full dating site instead.
Another dig at Jomblo is how the team's two non-dating features don't look all that special, anyway. The only advantage it has against creating an open group or hosting an event on Facebook is that it's easier to search and discover existing groups and activities. But is that enough to convince a large pool of users to use Jomblo instead?
Finding a strong userbase willing to seriously host online activities on Jomblo is a challenge in itself. There's a lot for the six-man team to do if they choose to stick to the current model. Rochili replies:
We're open to the possibility that we have to shift focus to be a dating site, and it has come to be discussed by the founders due to lots of comments about 'is this a dating site or not?' But at the moment we want to try and reach a bigger market – communities versus only singles who are looking for dates.

The dating part of the site will still be developed (i.e. features like Tinder or eHarmony are in the planning pipeline), so if we need to shift towards a more dating type of site, we will be prepared with the necessary features.
Jomblo is in a good strategic position to become a household name in dating thanks to its powerful domain. So far, Jomblo has garnered close to 9,000 registered members and most of them are single. The team plans to release Android and iOS apps in the future.
Competitors in Indonesia's online dating scene include Tristup – which looks like the localized version of Bang with Friends – and matchmaking service Setipe.
(Editing by Paul Bischoff)
---
The 'like' icon only shows up when you click on a user with different gender. So male users can't 'like' other male users inside the system..↩