In celebration of the launch, Bandai Namco arranged for two tournaments centred around the game: a beginner and a veteran tournament.
Singapore's fighting game community is no stranger to Jojo ASB. A small group of hardcore fans have been playing the game since the launch of its Japanese edition. It was these same fans that turned up for the launch, hence the split in competitor ability.
Before the tournament started, several of these same fans had to play through the game's story mode, unlocking characters for use in the tournament later. They didn't seem very bored though, as they were having a good laugh at the localized character and special move names.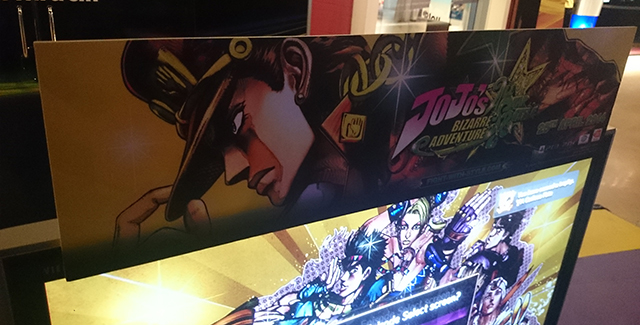 The Jojo ASB tournament had a combined total of 24 participants, and many of the players in the 2v2 open category have been playing the Japanese version of the game for close to eight months. 18-year-old Nicholas "Seo" Choo first won the beginner's tournament, then later, together with his veteran teammate who goes by the handle Rchusan, managed to win the open category as well. This was a win from a teenager who had been playing for just three weeks.
Though a newcomer to Jojo ASB, Seo is a long-time front-runner of the local fighting game community, and he can often be spotted placing highly in other Battlefield Friday tournaments for other fighting games. No doubt that his past experience in similar games were a big factor in helping him pick the game up quickly.
Seo won quite a fair amount of sweet loot that night. The first-place prizes in the beginner's tournament were an autographed limited print poster, an autographed inlay, a Giorno Giovanna figurine, as well as a copy of Dark Souls II: Collector's Edition (PC). The first-place prizes for the 2v2 tournament were an autographed limited print poster, an autographed inlay, two Giorno Giovanna figurines, and two Jotaro Kujo Second Complete Figures. All autographed items were signed by the producer of Jojo ASB, Noriaki Niino.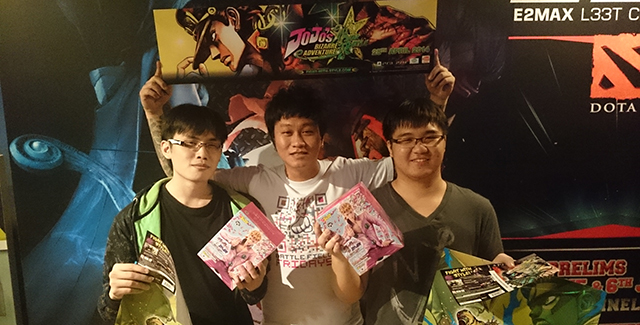 Singapore has played host to a slew of launch events in the past, including Diablo 3 Reaper Of Souls and Pokemon X&Y. We hope that more big game companies will continue bringing us more hype-filled events in the future!