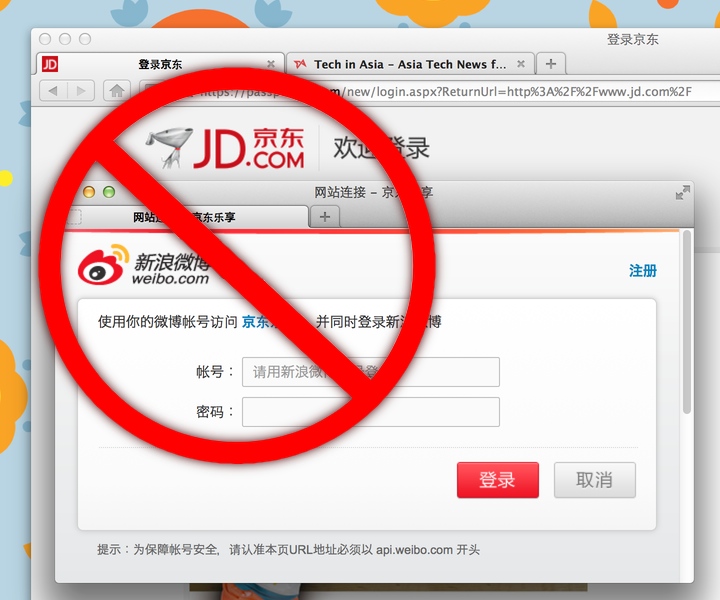 Ah, the sweet'n'sour taste of petty revenge. One of China's top e-commerce sites, Jingdong, will axe support soon for login via Sina Weibo accounts. The moves comes five months after Jingdong's biggest e-shopping rival, Alibaba, invested nearly $600 million to take a stake in the Twitter-esque Sina Weibo.
A Jingdong representative explained to the Global Times newspaper:
Given that our partnership with Sina Weibo will expire soon, we expect Weibo users to apply for accounts on [Jingdong] so as to continue their online purchases. Their previous buying data will be preserved in the new accounts.
"Soon" means the end of September.
The cold shoulder
Alibaba operates Tmall and Taobao, two of the biggest challengers to Jingdong in China's ultra-competitive e-commerce market. Alibaba is trying to be more social and explore social commerce, hence its major investment in Sina Weibo.
Jingdong also took action against another rival recently by removing support for Tencent's e-payment platform Tenpay.
The Chinese web and tech sector is known for its many bitter rivalries, so there's nothing unusual in a rival's product being given the cold shoulder. Alibaba's Taobao did something similar last month.
Sina Weibo users who used that login to create a Jingdong account will need to make a fresh username. All the account details will be transferred to the non-Weibo account. Jingdong still accepts third-party login via eight other services, including Tencent's QQ.
(Source: Global Times)