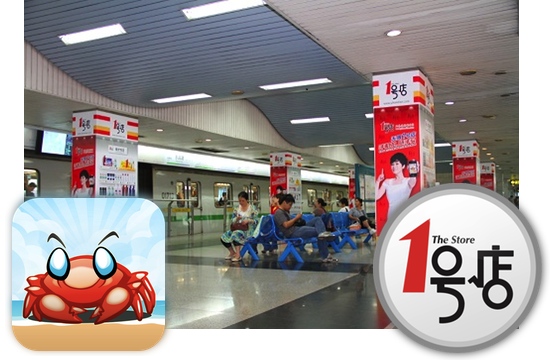 Chinese location-based service Jiepang has teamed up with B2C e-commerce site YiHaoDian to promote the latter's subway-based virtual supermarkets. The promo gives Jiepang users badges, and enables YiHaoDian discounts on their QR-powered purchases at 24 subway stops in three cities – Shanghai, Beijing, and Guangzhou.
The stores are actually just specially-made YiHaoDian posters, usually wrapped around pillars or on illuminated ad boards – with lots of products, prices and QR codes printed on them. Keen online shoppers need only use the YiHaoDian iPhone or Android app to snap the QR code, and confirm the purchase in the app. The goods will be delivered to your door just one or two days later; but presuming you live in those three major cities, you'll be getting the goods in under 24 hours.
The virtual supermarkets have already been running for a few weeks, and now Jiepang is joining the fun with this complementary campaign. From this week to October 10th, check-ins at any of the subway-based YiHaoDian stores which are also tweeted out on Sina Weibo will be rewarded with a badge (pictured in the top image) and a 5 RMB discount. Not a huge sum of money – but a free pack of biscuits is better than a kick in the nuts, that's what I always say.
Like any venue on Jiepang, the stores now have their own web page. Here, for example, is the Shanghai Jing'an Temple subway-store page, with some users photos on it. In just a few days, it has already had 68 check-ins so far. Though, of course, that doesn't equate to the same number of customers.
When we chatted with Jiepang's CEO and founder, David Liu, earlier this summer, he emphasized the importance of useful yet fun promos – just like this new one.
If you're in those three cities, you could grab the YiHaoDian app and give it a try. Remember to check-in with the Jiepang app for this promo as well.
Here are a three more pics from Jiepang users who've been trying this all out: