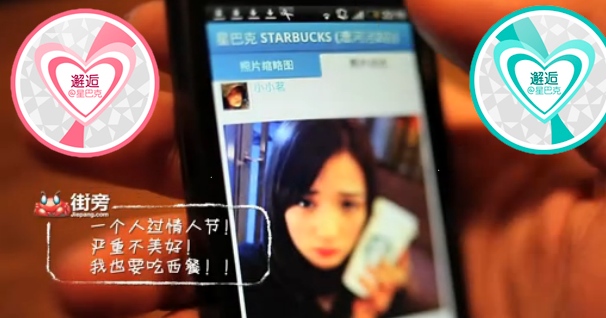 Smartphone-toting singletons in China will get some help in finding a potential date for Valentine's Day with a new social marketing campaign from Starbucks (NASDAQ:SBUX) and the local social network Jiepang. Using both the Jiepang app and some in-store postcards – a good combo of hi- and low-tech – single folks in China could make a new connection as well as perhaps win some prizes.
Jiepang is a social check-in service that has previously teamed-up with the likes of Starbucks and also Nokia (HEL:NOK1V; NYSE:NOK) on fun campaigns, and both those companies are in evidence for this new Valentine's Day promo.
What's on offer? All check-ins within Jiepang in some parts of China will earn a blue or pink Valentine's badge (pictured above), which, when followed up by purchasing a Starbuck's reward card, will earn anyone two free cups of coffee. For some luckier users of the service, a grand total of 520 Nokia N9 phones could be won; or, for those who fill out the match-making in-store postcards, you might win a special Starbucks mug – and perhaps even a date.
If you're looking for alternative distractions on the big day, February 14th, people in Japan could buy a 'chocolate' phone, and the people of the world can finally play Angry Birds on Facebook.
As befits a social marketing campaign, there's a specially-made video promo, this one showing Jiepang helping a guy and a gal to connect in the real world: