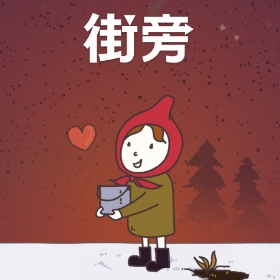 Coffee chain Starbucks (NASDAQ:SBUX) is keeping its relationship with Jiepang, China's top Foursquare-esque check-in service, brewing for yet another year. This year's Starbucks-Jiepang social marketing campaign for the holiday season is now in full flow, offering four virtual Christmas badges for coffee drinkers who also make social check-ins within Jiepang's cross-platform mobile apps. There are also Christmas-themed e-cards and some unlockable buy-one-get-one free drinks rewards.
Once again, the coffee chain's tie-up with Jiepang is geographically limited to eastern China – namely Shanghai, Jiangsu, and Zhejiang provinces – but that's still enough to cover over 300 Starbucks stores.
To ensure all this is even more social – and to give it viral potential – the e-cards are designed to be gifted to your buddies on Sina Weibo, China's biggest Twitter-like service, from right within the Jiepang app. Here's the check-in and the e-card before you send it out: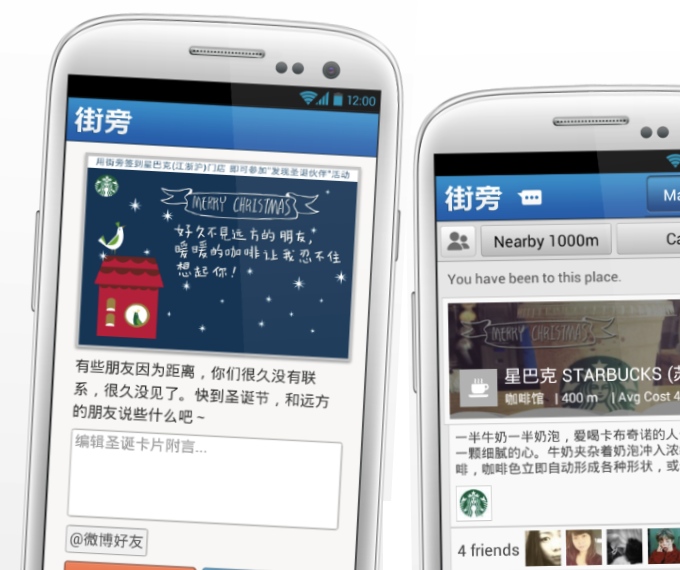 As for Jiepang itself, the social startup says it now has four million users, mainly in China, Taiwan, and Hong Kong, which is pretty good growth from three million this spring. But check-in apps are not exactly mainstream stuff, so the company is always aiming to connect more and more with its demographic of smartphone-toting young urbanites with a huge desire to go out and try fancy new places. In terms of brand partners engaging in this kind of social marketing, Jiepang tells us it has buddied up with "over 300 local and international brands, including Starbucks, Starwood, Louis Vuitton, [and] H&M." This is the third Christmas tie-up with the coffee chain.
(Read: Starbucks Gets Even More Social in China, Lets Fans Follow in WeChat App)
Last year the duo focused more on NFC check-ins to get social promotions. I'm not sure how that went down, but there are likely not enough people with NFC-equipped phones to make that work again.
Jiepang currently has 100 employees scattered across its Beijing HQ and offices in Shanghai, Guangzhou, Taipei, and Hong Kong.