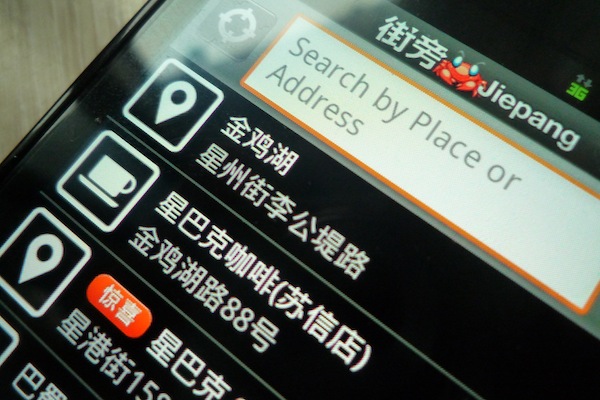 With over 100,000 people making check-ins every week, the indie Jiepang.com is China's biggest location-based service (LBS) – a social-network for sharing where you are, and what you're up to. As such, it's time for a review of its service and its apps. Then, for an interview with Jiepang's CEO and founder, check back here on Penn-Olson on Monday, for word on the company's brand and celebrity tie-ups, social strategy, and future ambitions (UPDATE: Monday; here's the interview).
Apps and Social Connections
So, the review… Since Jiepang check-ins can only be made on the various mobile apps, the site has most bases covered, with apps for iPhone/iOS, Android, Blackberry, and JAVA/J2ME-based phones. There's also a mobile version of the site, to keep WinMo and various other users catered for too. The iOS and Android apps keep up a good level of feature parity, and both are now available in English as well as simplified or Traditional Chinese.
In a recent development, users of Sina Weibo can sign-in to Jiepang with their Sina ID, so as to avoid a new sign-up process. Once inside Jiepang, users can sync their activities on the service to a number of other Chinese social-networks (Sina Weibo, RenRen, KaiXin, Douban, and FanFou). Sharing/syncing to Twitter, however, is not an option. In addition, you could search for friends who might already use Jiepang by scouring your contacts on all the above SNS, plus the option of Google or MSN contacts too.
The actual Jiepang.com website serves as a place for managing your contacts or editing info, but is not needed for general usage. As with most other LBS, it's all about the apps.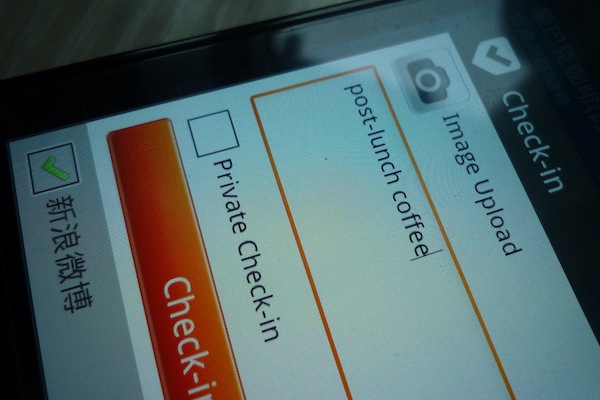 Going Out, Checking In, and Being Seen
Now it's time to go out. Jiepang – unlike Gowalla or Foursquare in China – has detailed and accurate listings in every city in China I've visited (though it's much more comprehensive in more developed cities), so there's no need for the time-consuming manual addition of a new venue, since the restaurant, bar or gym that you're at is very likely already listed, right there in the Jiepang app's 'Places' tab. Of course, new venues can be user-submitted, but it's not often that it's required.
When checking in at a venue, there's the option to share this with your 'sync' social-networks, so that your check-in could hit your various social-network profiles with just one click (see photo, above).
Unlike with Gowalla and Foursquare, there's no distance-check that might prevent fanciful – ie: false – check-ins, which might be something to do with civilian GPS being so inaccurate in China, or so as not to exclude users on older phones who have to rely on very vague wifi/cell signal triangulation.
Integrated into the iOS and Android apps – I didn't test the Blackberry or JAVA OS versions – are maps for each venue, which are now served up by Baidu Maps (see photo, below).
Mayorships, badges and points are on offer, as users check-in to different venues, to encourage frequent usage of the app. More enticingly – because we humans love free stuff, right? – there are sporadic promos that give away actual products. Which brings me to…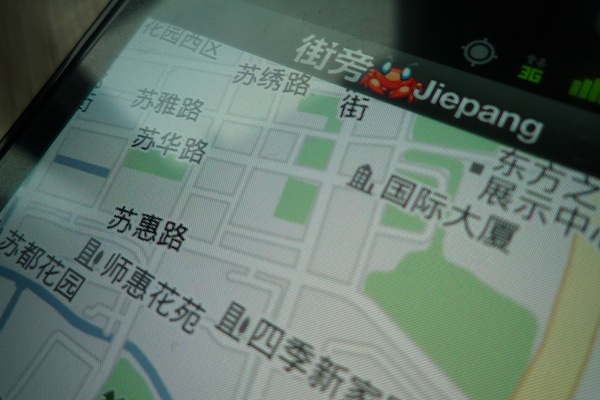 Brand Partnerships, Coupons and Deals
Since the end of last year, Jiepang has been pushing into brand-based promotions, as a way to monetize the service, and bring in more of its relatively well-heeled young users. At the moment, there are high-profile campaigns running in cooperation with fashion giants Burberry and Louis Vuitton, offering unique, or limited edition (virtual) badges to Jiepang users who engage with the brand by checking-out the promo, or check-in to the brands actual stores. The dedicated LV brand page can be seen here, and shows how Jiepang is tapping into the desire of many young Chinese to be seen at an exclusive place, and to then broadcast that effectively to their social networks.
As for real-world discounts and freebies, Jiepang seems more active with Starbucks in giving away actual things, such as last year's multiple check-ins for a free coffee, or this summer's Frappucino badge (see photo, below) that could win you a free drink.
One more brand-oriented aspect – this one being more unique to Jiepang, compared to its western counterparts – is celebrity events or stores, which are also massively popular check-in venues, and which also bring an element of glamour-by-association to users who check-in there.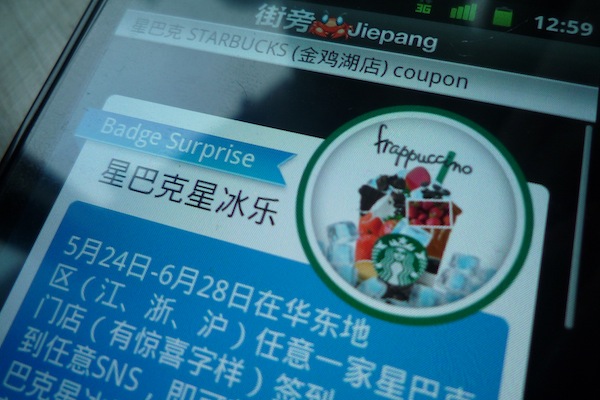 One more thing…
Please head back to Penn-Olson on Monday (UPDATE: Monday; here's the interview) to see the full interview with the Jiepang CEO, David Liu, and hear more about the site's genesis, users, and its future.