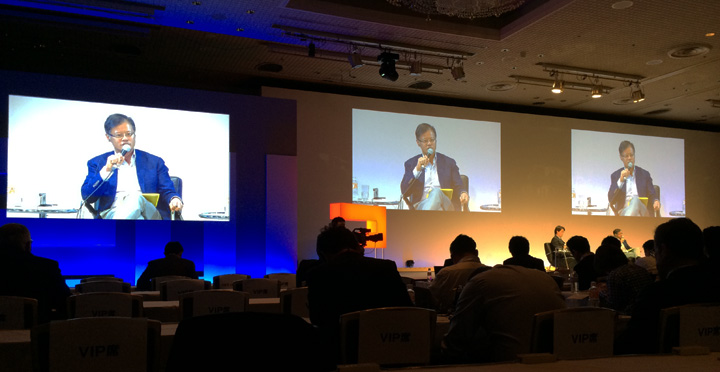 "It's a great time to be an entrepreneur," says Jerry Yang, co-founder of Yahoo, at the New Economy Summit (NES) held in Tokyo, Japan this morning.
Yang, who is now a full-time investor at AME Cloud Ventures, an investment fund he founded, says that technology has become mainstream in today's society, giving entrepreneurs a cozier environment to build technology companies. Yang also says that there are so many more tools and support today to help entrepreneurs build billion-dollar tech companies.
For AME Cloud Ventures, Yang says that he likes investing in good entrepreneurs and data-driven businesses. To date, Yang's portfolio of investments includes data driven startups like Treasure Data and Lex Machina and also consumer-facing products like Tango and Evernote. Just yesterday, Yang invested in Elementum, a company that is poised to disrupt supply chain management.
(See: Why did Alibaba invest $215 million in Tango when no one in China uses Tango?)
At NES, Yang described the difference between big corporations and startups. He says that startups have more hunger to innovate and that hunger is driven by the entrepreneur's sense of urgency.
Why do we need to innovate? The answer always always seems to be a sense of urgency. Of course for a startup, there's always sense of urgency. You run out of money, people, time [and there are] more competitors. It's an environment with much more urgency. In a big company, [it is like] "we can wait for another quarter, we can wait for another month."
Yang's greatest investment so far is perhaps on Jack Ma's Alibaba, which Yahoo invested US$1 billion for a 40 percent stake back in 2005. Alibaba is set to go public in the U.S which could see it raise more than US$15 billion.