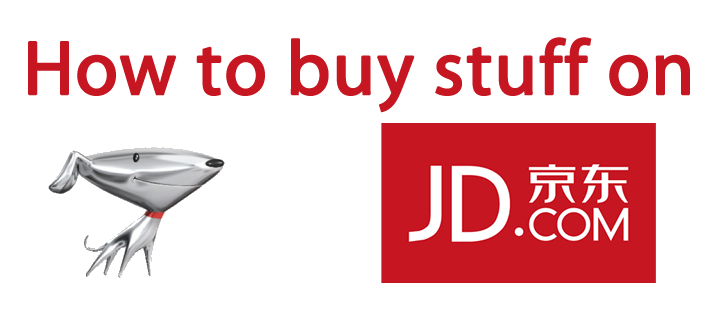 Taobao and Tmall might be the undisputed kings of ecommerce in China, but they are far from the only option. Earlier, we posted an English-language tutorial for foreigners who want to use Alibaba's marketplaces using their international credit cards.
But for those of you who don't have credit cards, prefer to shop from your phone, or just prefer to shop elsewhere, Tech in Asia has created this English guide for how to shop on JD's mobile app.
For those of you unfamiliar with JD (formerly called 360Buy, known in Chinese as "Jingdong"), it listed on the US stock market earlier this year and is one of China's most trusted online retailers. More importantly, the majority of the items on the JD Mall can be paid for using the cash-on-delivery option, so there's no need to enter any bank or credit card info. The app looks great and is pretty intuitive, but can be tough to navigate without any Chinese language skills.
To get started, download the app here. Note that some of these instructions might vary slightly due to the differences between the iOS and Android apps. This tutorial was made using the Android version.
Just browsing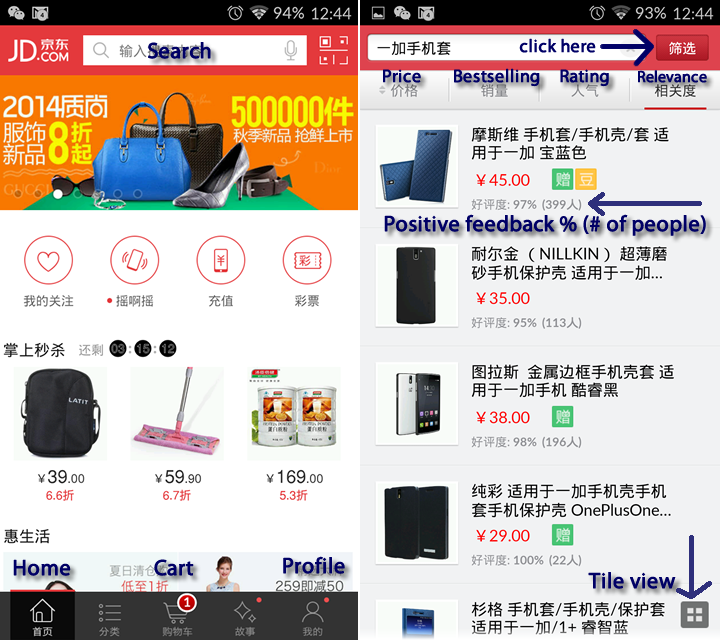 Let's begin with the home screen, which has a search bar at the top and a navigation bar at the bottom. Take note of the home, cart, and user profile buttons at the bottom for later, but for now we're just going to type in a search phrase.
As with Taobao, you'll get the best results if you search in Chinese. I need a case for my phone, so I'll type in "OnePlus phone case" ("一加手机套").
When the results pop up, you can view them in either list view or tile view. Items are sorted by relevance by default, but you can also filter by price, bestselling, and user feedback. Take note of the number of people who gave feedback for each product and their positive rating percentage to get an idea of an item's quality.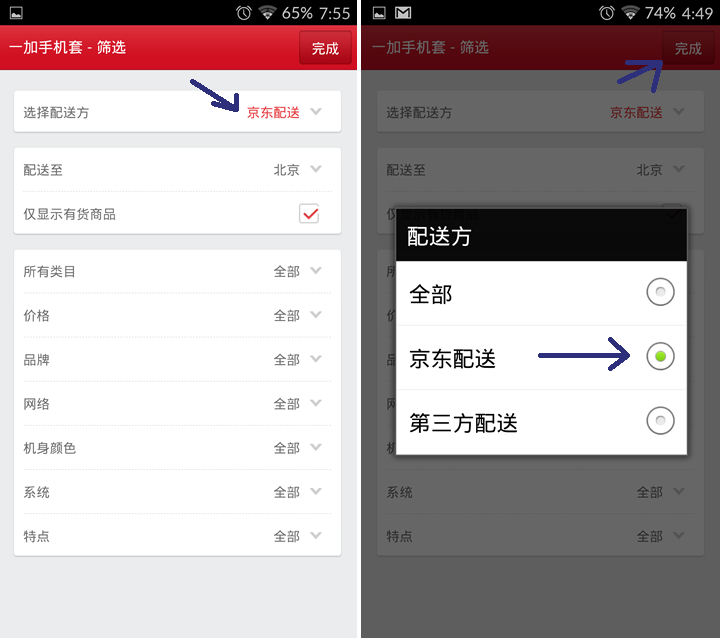 Before you start browsing, though, click the red button in the top right hand corner. This brings up a page containing all the different filters, which vary depending on your search. The filter most important to us is the top one, which will allow to you see items only sold directly through Jingdong and its official partners, and leave out third-party merchants. This ensures that all the items you see support cash-on-delivery payment. Click that bar and choose the middle option.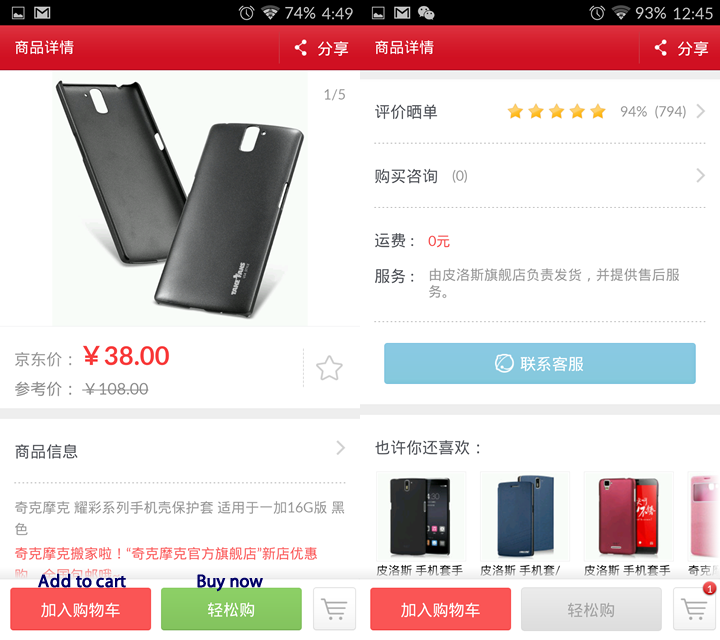 On the product page, you'll see more item details and can choose options like color, size, material, etc., depending on the item. If you have questions about an item (and can read/write good enough Chinese), tap the blue bar to chat with customer service. At the bottom are "Add to cart" (red) and "Buy now" buttons. We'll click "Buy now" for this example.
See: China's JD to take pre-orders for the country's first official Xbox One shipments on WeChat
Registration and checkout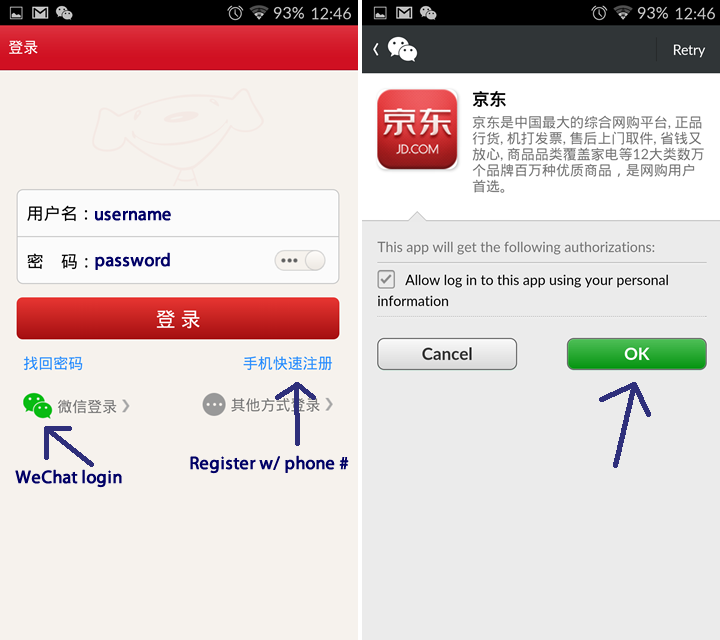 Next you'll be prompted to log in. The easiest way to do this is with your existing (hopefully, since you live in China and all) WeChat account. Just click OK when the WeChat permissions page appears, and you're all set. Alternatively, you can register using your phone number.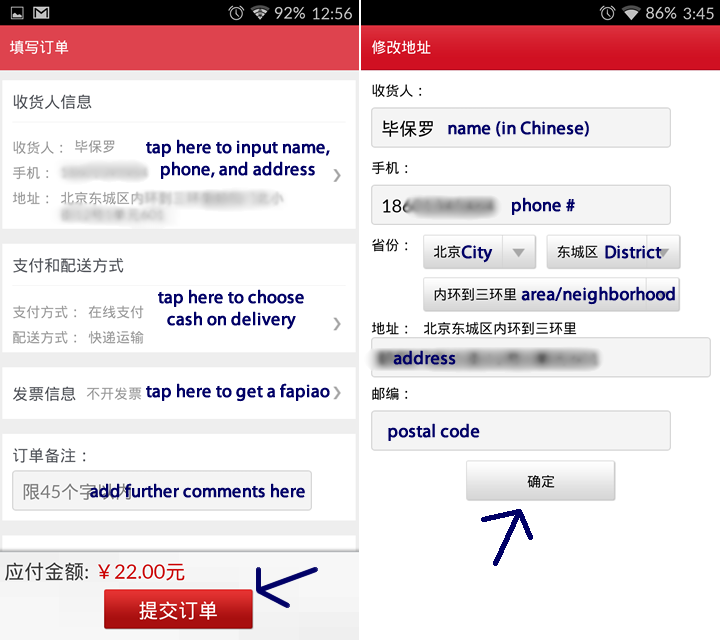 Now it's time to enter your delivery details. Tap the top field, then the red button on the top right to enter your name, phone number, and address. This all needs to be in Chinese, including your name. This is just the name of the person who is supposed to receive the item, so you can use a Chinese pseudonym. You'll probably want to learn to write it for when the delivery guy asks for your signature, though.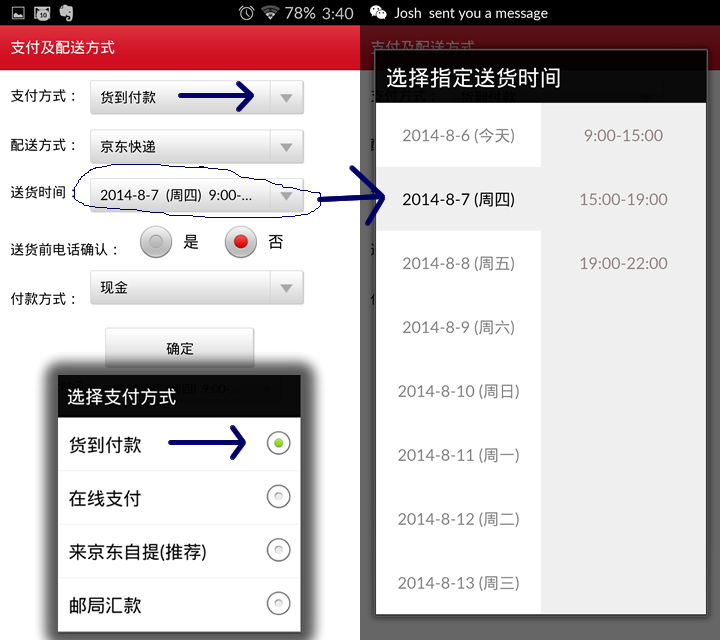 Tap on the next field for payment options. Click the first drop-down menu and choose the top option (货到付款), which is cash-on-delivery. On the third drop-down menu, you can choose your preferred delivery date and time. Some orders can be shipped on the same day, and most come at least by the next day. The bullet option is for whether or not you want to receive a phone call before the delivery man arrives (left button for yes, right for no). Leave the other two options as they are.
The third field lets you receive a receipt, or fapiao, upon delivery. You'll need this if you're buying on behalf of your company and need to be compensated. Leave any further comments in the fourth field, then click the red button at the bottom to place your order.
Note that any deliveries under RMB 59 will add on a shipping charge, but everything above that should come with free shipping (ignore the sudden price difference in my images, as the screenshots are from two separate purchases).
Voilà! Your items are on their way. Have cash ready when the courier arrives.
Post-purchase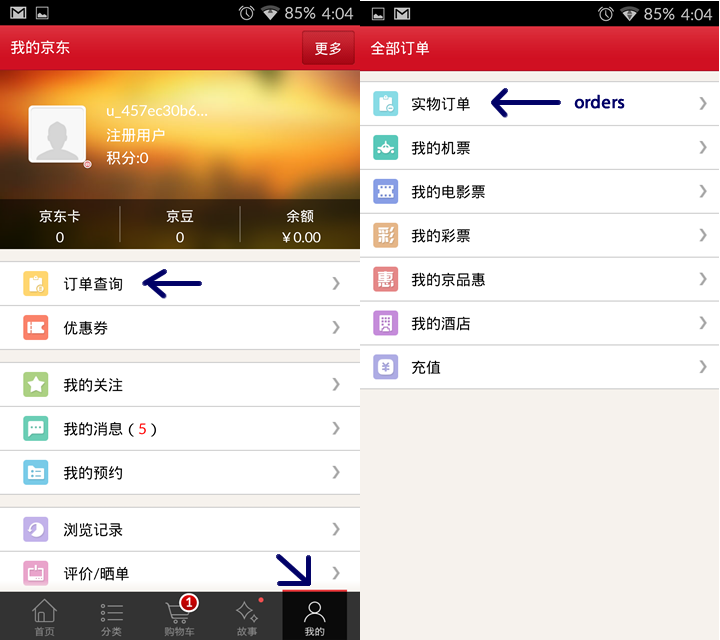 To review and/or cancel an order, navigate back to the home screen and click the user profile button mentioned before. Now tap on the next two topmost options to see your order history.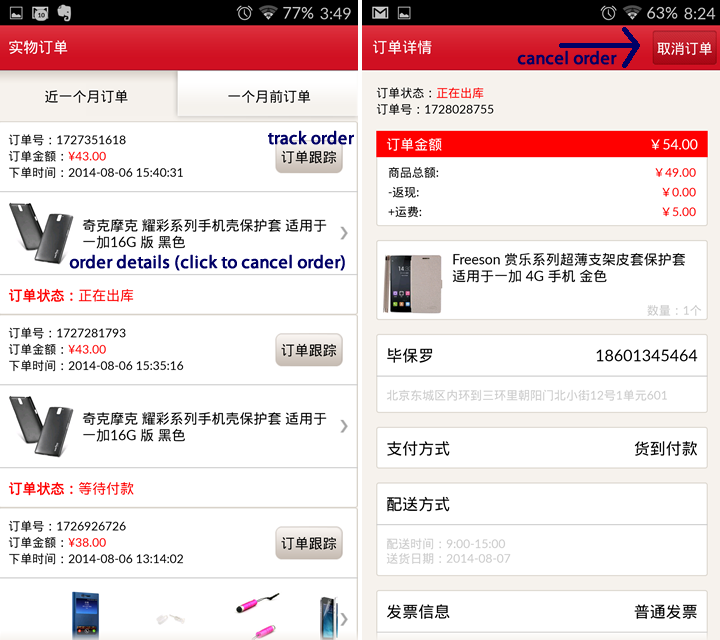 Tap the button to the right of each order to track its shipping progress. To see more detailed information about a specific order, click on the appropriate image. This is where you can cancel an order if need be. Just tap the red button in the top right hand corner and confirm, and the order is cancelled.
If the item has already shipped and it's too late to cancel, just refuse to take the items when they arrive. That's the beauty (and risk, if you're an ecommerce company) of cash-on-delivery.
Happy shopping!