JD (NASDAQ:JD), China's second biggest ecommerce company, saw RMB63.0 billion (US$10.2 billion) in consumer sales [1] in Q2 2014, the firm revealed today in its newest earnings report. That expenditure by its users is up 107 percent on Q2 2013. That came from 163.7 million fulfilled orders during the three-month period. About 24 percent of those came from mobile shoppers.
Ecommerce spending in China hit a grand total of US$74 billion in Q1 2014 – which is up 27.6 percent year-on-year.
JD, which raised $1.78 billion in its US IPO in May, pulled in RMB28.6 billion (US$4.6 billion) in revenue during Q2, which is up 64 percent in the past year. The estore made a slim operating loss of US$1.9 million in Q2, aside from non-cash costs related to the recent Tencent deal. (UPDATE: The original article mis-identified non-cash losses of RMB582.5 million (US$93.9 million) as the net loss; but those were costs primarily related to the Tencent strategic partnership. That sentence has been removed and replaced).
JD is a lot like Amazon. Most orders are shipped direct to consumers from its own warehouses, but it also has third-party merchants on an open marketplace. Its primary rivals are Alibaba's marketplaces, Tmall and Taobao. In the business-to-consumer (B2C) sector, Tmall and JD collectively dominate with over 70 percent market share, according to data from iResearch.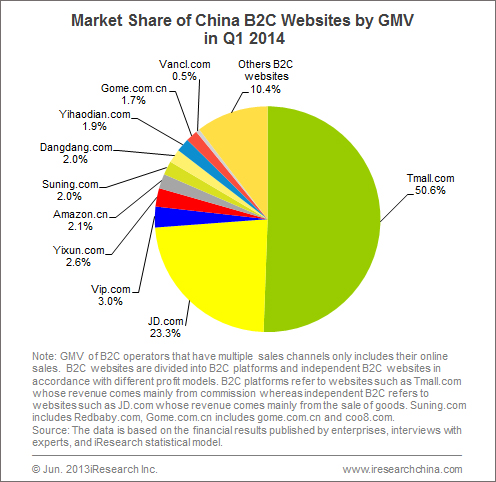 JD now has 38.1 million active customers, which has nearly doubled in the past year.
Chinese web giant Tencent (HKG:0700) took a 15 percent stake in JD in March ahead of the IPO. That means JD now benefits from integration into WeChat, Tencent's hugely popular messaging app that has nearly 440 million monthly active users.
See: The complete English-language guide to shopping on JD's mobile app
---
The proper term is gross merchandise volume (GMV).  ↩