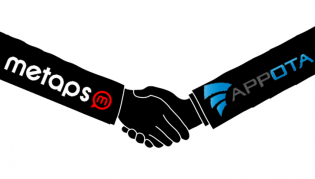 Metaps, the Android monetization platform out of Japan that just secured $11 million in series B funding, is today teaming up with Vietnam's Appota, an iOS and Android app monetization and distribution platform, to tackle the Vietnamese Android app market. The deal allows Appota to use Metaps' SDK as its official monetization engine, which should make it easier for local developers to make money from their Android apps.
Metaps, which is now operating in Japan, Korea, the US, Singapore, and Hong Kong, has been aggressively expanding its reach. By bringing Vietnam into the fold, this signals Metaps has its eye on Southeast Asia where smartphones are still on the rise. In Vietnam, for example, smartphones barely make up 20 to 30 percent of the mobile market, compared to East Asia where smartphone acquisition is at 90 percent in South Korea. But with Vietnam's rapid smartphone growth, it's time to get in now before rivals ad platforms do so.
This is an interesting move for Vietnam's Appota, which started in 2011 and has its own SDK that allows developers to monetize their apps. I spoke with the CEO Do Tuan Anh and he's long had dreams to bring Appota out of Vietnam, so this deal may fall right in line with that. According to Tuan Anh:
We will have the main mobile business in advertisement, so cooperation with Metaps will be a good step for us to join in the advertisement industry.
Metaps, which garnered over 10 million downloads via its platform in 2012 will now be able to access Appota's 7.6 million Vietnamese users.
This is all in keeping with Metaps' goal of being the largest Android monetization platform in the world by 2013. But before it gets there, it's probably going to have to start looking seriously at China (which is on Metaps' to-do list) and Europe, where smartphone penetration is much higher than in Southeast Asia.
Update: Added quote from CEO.