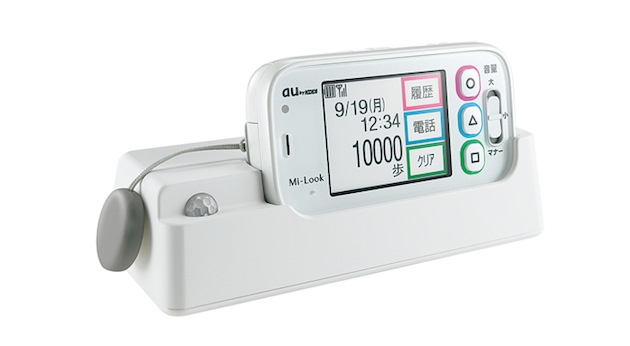 This September KDDI will begin selling the Mi-Look, a mobile phone created by manufacturer Kyocera, which aims to help people in Japan take care of elderly family members.
The Mi-Look handset features speakerphone capabilities and large, simple buttons that should be easy to understand, even for older people not accustomed to technology. It is unique in that it sends information to an off-site caretaker. The device has pedometer and GPS functions as well, capable of sending data to the caretaker over email. It also comes with a cradle mount, complete with a 'human presence sensor' that can also send data about the person's movement.
One of the most interesting functions is an emergency strap near the bottom, which when pulled will trigger a buzzer sound as well as an email alert to the caretaker. For more details about the Mi-Look, check out the video below.
The problem of Japan's aging population is no secret, but it is giving rise to some interesting ideas about how to best care for seniors. Japanese companies also need to adjust to an aging consumer market, so solving such problems should help them compete in the marketplace as well.
Kyocera is known for designing unconventional handsets. You may remember back in May when we got a look at the company's dual-screen Echo handset that switches to 'tablet mode' when it's expanded.