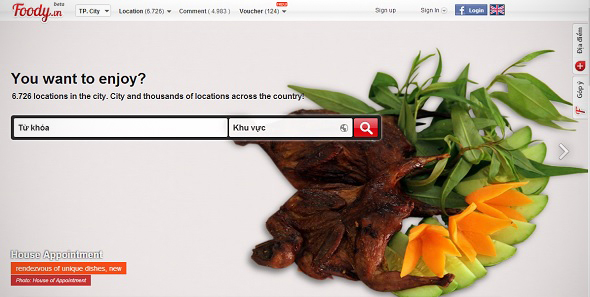 CyberAgent Ventures, the VC arm of Japanese Internet company CyberAgent, has announced an investment in Foody, a food search and review web and mobile platform in Vietnam. Terms of the deal were undisclosed.
The site was launched in August 2012, and attained 10,000 restaurants and 5,000 reviews in three months. The investment will be used to facilitate further user and content growth.
The VC firm believes Foody is filling a void in Vietnam. Their decision to back the company was influenced by similar sites in Japan and China that have successful business models.
This is CyberAgent's second successive investment in a food-tech startup in a short span of time. On October 31, they funded Taiwanese online recipe site iCook, which is said to have the largest collection of user-generated recipes in the country.
Food-related startups have become popular investment and acquisition targets lately. SingTel was involved in a couple of acquisitions in this space with their purchase of HungryGoWhere and Eatability.
Besides getting into food startups, CyberAgent has been actively investing generally in the emerging market's tech startups. It funded NhacCuaTui.com in February, described as the largest music site in Vietnam.
In total, CyberAgent has made eight investments in Vietnam. It's the second from the CyberAgent Asia Internet Fund I, which focuses on Internet companies in Vietnam and Indonesia.