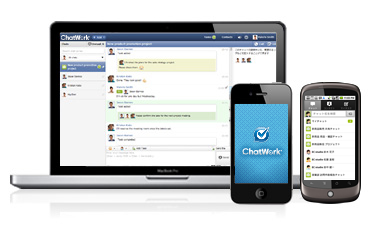 Japan's ChatWork is an easy-to-use business communication and collaboration platform. The functions are simple, allowing businesses to set up private chat discussion groups which can be accessed via PC and mobile apps.
ChatWork also helps business managers assign and track tasks given to other team members. Sending files via ChatWork is easy too, and it's free for companies who have less than 40 users, and pricing ranges from $2 to $4 per user per month for enterprises that are larger. The more users that join, the cheaper it gets.
ChatWork currently has more than 110,000 users, and about 15 percent of them are paid users.
The company was actually first founded as a web consulting company in March 2000 by its CEO Toshiyuki Yamamoto. But a representative, Shuhei Tanigawa told me that through the company's dealings, they found that there's a big demand for having an "effective internal communication tool." So ChatWork was developed and launched in March 2012 to meet the demand. He added:
The review and feedback from users has been great and the number of users are skyrocketing, so as a company, we've decided we commit to this business, which means we have given away most of the business we had so far to our business partners in order to focus on ChatWork. At the same time, we have changed our company from EC Studio to ChatWork Inc.
In the near future, ChatWork plans to expand to Southeast Asia and it will be landing in Singapore to get the hang of the startup culture first before deciding which other markets to pursue. ChatWork is currently available in English, Japanese, Simplified Chinese, and Vietnamese.