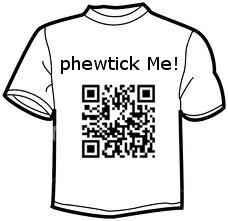 Recently in Tokyo, I managed to catch up with Kaz Naya, CEO and co-founder of Phewtick, a startup we reported on earlier this year. Phewtick is an app that allows its users to meet new people, and you can even earn money while doing so.
The entire process of meeting new people and earning points to exchange for money relies on the use of QR codes. After you have met someone face-to-face, just launch Phewtick, scan his/her QR Code to record the meetup, and you'll get points which can be exchanged for cash. For every hundred points recorded, it can be converted to 10 yen (0.12 USD), which can then be collected via Paypal or bank accounts. You are only allowed to scan the same person's code one hour after the last scan. And the amount of points you receive changes each time you scan. In other words, points allocation is random which makes the app really addictive (almost like a lottery).
Naya explained that in addition to monetary rewards, Phewtick works really well as a conversation-starter. The main idea behind the service is to get users into the habit of scanning QR codes for rewards. The bigger plan, he says, is to tie QR codes with merchants. There could be plenty of room for collaborations with merchants and brands once the QR code scanning habit is developed. It could be potentially better than Foursquare when it comes to helping merchants get more customers. But we'll see.
The mobile app currently has 600,000 registered users and is aiming to reach four million by the end of 2013 before moving on to monetization. Phewtick is available on both iOS and Android.
[Source: Image]