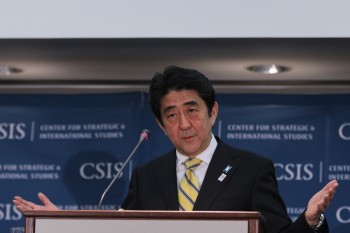 Ahead of this month's Tokyo motor show, Japanese Prime Minister Shinzo Abe tested self-driving cars from Toyota, Honda, and Nissan on Tokyo's public motorways on Saturday. He puttered around the National Diet Building, where the country's legislature meets, according to Business Insider.
The Nissan Leaf in September became the first road-legal autonomous vehicle in Japan.
Abe is promoting autonomous vehicles as a way to reduce traffic accidents caused by human error in his economic policy.
Abe touted the Japanese cars as "the world's best," although companies like Google and Audi have already obtained licenses to use their self-driving cars on public roads in Nevada, United States some months ago.
Self-driving cars will be a big upcoming trend in the automobile industry, although the same formula can't be applied in all settings. While roads tend to be rule-driven and tame in Japan and the United States, other countries, especially developing ones like China, have very different traffic conditions. On the sidelines of GMIC in May, Carsten Isert, BMW's head of research in Shanghai, said about autonomous vehicles, "Of course we are working on it, but due to the different traffic situations, it cannot be taken as it is to China."
According to Isert, perhaps a more realistic technology for these countries in the next five years is traffic jam assist, which automatically follows the car in front of the driver at a certain distance and under a certain speed, so drivers don't need to constantly switch between the gas and brake during a traffic jam.
Check out the video below of Abe cruising in what might be the automobile of the future (good stuff starts at 00:50).
(Source: Business Insider)
(Editing by Josh Horwitz)