LINE, the Japanese messaging app that's hot right now in East Asia, has officially released Line Whoscall, a separate standalone app that helps users identify unknown calls and SMS messages.
The announcement was highly anticipated in the Taiwan tech community after news broke that Naver, the LINE's parent company, had acquired Gogolook, the Taipei-based startup behind Whoscall, for $17.6 million. At the time it wasn't clear how or if LINE might work with or integrate Whoscall, though as time passed it became clear that the two apps would likely join forces somehow. As a result, LINE Whoscall marks the first step in making use of the service since the acquisition.
LINE Whoscall works more-or-less the same as the original Whoscall app. When users receive a phone call from an unknown number or a number outside of their contacts list, Whoscall will draw from its database of over 600 million phone number entries, taken from various sources, to identify the source of the caller. This helps users block telemarketers, or know when the unknown number on their phones is actually the pizza delivery guy.
If you've used whoscall before, you'll notice that it's basically the same app, though dressed in LINE signature bright-green palette and accompanied by its famous cartoon characters.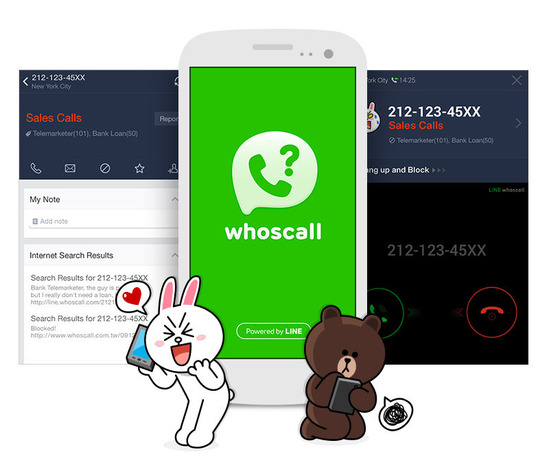 Edgar Chiu of LINE Whoscall tells Tech in Asia that the main goal of the acquisition, for now at least, will be to help Line Whoscall reach the same international traction that the original LINE messenger has. He singles out Hong Kong, Taiwan, South Korea, Japan, and Southeast Asia as target markets for growth in 2014.
For the moment, LINE whoscall remains a standalone app and is not integrated with the flagship Line messenger. Of course, it's easy to see how it might extend over to the main LINE app in the future, especially since Line has lately developed a reputation for being riddled with spam. When asked about the possibility of a crossover in the future, Chiu declined to comment.
LINE has over 300 million registered users worldwide as of late November, with core markets in Taiwan (at about 18 million registered users), Thailand (about 20 million registered users), and Japan (about 40 million registered users). It's yet to release its monthly active user count, but its revenues continue to grow: last quarter it reported 19.1 billion JPY ($182.1 million), up 48 percent on the previous quarter.
LINE Whoscall is currently available for free on Android. An iOS version is expected to arrive at an unspecified later date.
(Editing by Paul Bischoff)