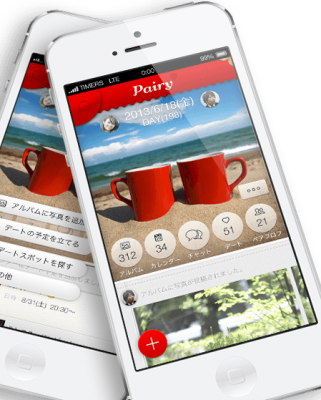 Pairy, a social network app for couples made by Tokyo-based Timers, announced today it raised JPY 100 million ($970,000) in its first ever funding round since launching in June 2012. Four Japanese investment firms made up the investment, including Incubate Fund, Itochu Technology Ventures, East Ventures, and NTT Docomo Ventures, according to The Bridge. The money will be used to ramp up engineering efforts.
Couples can use Pairy to record their relationship and communicate with their significant others so they don't have to sort through all the events and messages that clutter up other social media. It includes sharable albums, chat, calendars, and a date planner.
In September, Pairy won first prize at Docomo Innovation Village demo day. At that point, The Bridge reported the app had 120,000 registered users, six million monthly pageviews, and 50,000 date spots.
The app will eventually start monetizing through advertising and some value-added premium features, including making physical photobooks for couples. The goal is one million registered users by next October in Japan alone, alongside the eventual launch of English, Chinese, and Korean versions. Timers plans to launch another app for married couples next year.
Other apps in the "close personal relationship" space include Path, Couple, and Between. If the model sticks, it might only be a matter of time before "Pairy official" becomes a milestone in every Japanese couple's relationship.
Pairy is available on iOS and Android.
(Source: The Bridge)
(Editing by Steven Millward)