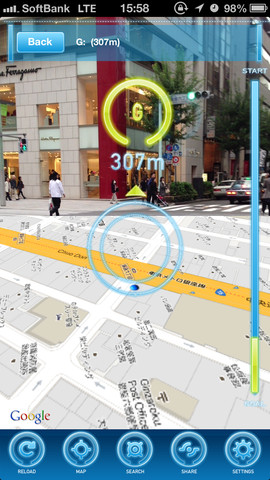 A company in Japan is offering a clever mobile map alternative that combines a conventional map display with an augmented reality view in a split-screen presentation. It's called AR-Maps, and is now available in English thanks to a recent upgrade.
The folks over at Diginfo news have a good video demonstration of the application (see below), showing the various modes available. If you input your destination, you can use the AR view to see your destination overlaid on a live camera view. If you happen to be lost, you can also send your current location to your friends, as a sort of mobile SOS for them to help you out. The app also lets you search for nearby points of interests, like cafes or restaurants.
The company behind the app, Crossfader, has very diplomatically allowed users to switch between Apple's own maps solution and Google Maps for the map display.
The app has been doing respectably well in Apple's Japanese app store since its initial launch this summer and briefly held the tap spot in the navigation category in August. A mid-October upgrade to version 1.3 has given it a resurgence that saw it return to number one for a day last month.
The latest version improves battery consumption, added English support, and also has a mode for when your iPhone is sitting in a fixed position, like if it's mounted on a car dashboard.
Check out the video demo below, for visual explanation of exactly how it works. If you'd like to try it out, you can download it here.