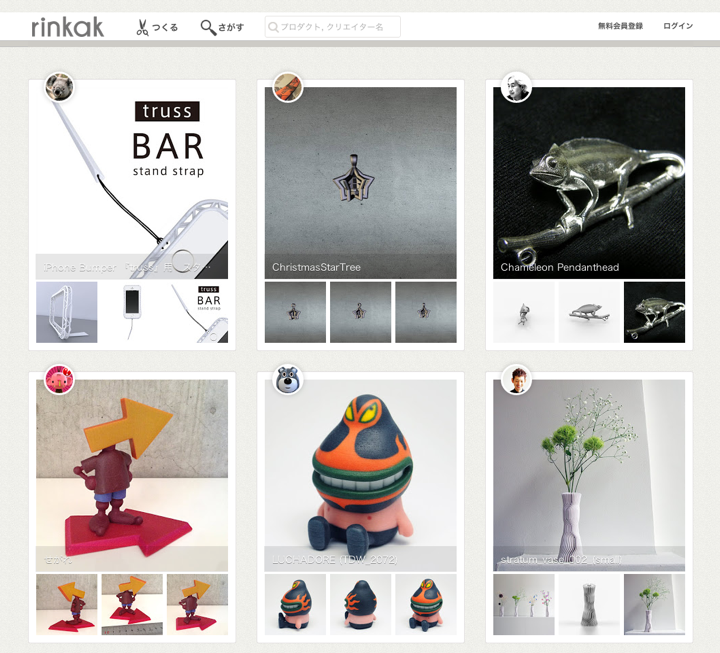 Japanese 3D printing service Kabuku has announced US$2 million in series A funding led by CyberAgent Ventures. The company, founded in January 2013, operates Rinkak – an online marketplace where users can buy and sell 3D-printed products.
"We will use the funds to enhance its development organization to accelerate service, function, and globalization, in order to rapidly structure and upgrade the platform where creators and companies can conduct production simply by uploading 3D data," said Kabuku CEO Masahiko Inada.
The Rinkak marketplace gives artists and designers access to high-end 3D printers and eliminates the need for them to maintain stock on-site. Aside from the typical plastic printing material used by many 3D printers, Rinkak can also process orders using ceramics, metals, and rubber. It also encourages collaboration between users to create truly unique products.
"As already seen in the smartphone business, any developers can sell their own applications simply by uploading to the platform," Inada added. "Similarly in the manufacturing world, Kabuku will create scenes where anyone can easily manufacture, sell and ship their own products simply by uploading 3D data to Rinkak."
See: Japan's CyberAgent Ventures expands into Thailand with new office in Bangkok
Kabuku also directly provides 3D-printed novelty goods, smartphone accessories, character figurines, and products for the architecture, medical, and dental sectors.
Nissay Capital and Fuji Startup Ventures also contributed to the latest investment round.