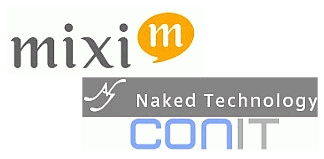 Earlier last week, Japan's social network Mixi announced it had acquired Tokyo-based start-up Conit. The start-up was founded back in 2008 and focuses on smartphone app development. It is also known for its in-app purchase platform for smartphone apps, Samurai Purchase, which allows app developers to collect and manage payments from both Android users and iPhone users on the one integrated platform.
[Related: For more about Conit, see some of my stories on Asiajin.]
With this acquisition, the start-up is expected to accelerate Mixi's efforts developing smartphone-enabled services and improve its smartphone app usability. We also remember, in September, the company acquired Naked Technology, a five-year-old Tokyo tech start-up with many talented smartphone app developers and engineers. The terms of the both deals weren't disclosed.

Meanwhile, GREE was also busy this week picking up a smartphone app developer over their own, acquiring Mars ltd. Like Conit, Mars is a Tokyo-based tech start-up, and it is known for having developed a virtual pet game called Megu.
In Silicon Valley, we hear lots about larger tech companies struggling to find new talent. Many end up acquiring start-ups simply to bring in quality people, rather than the service that they might have built. This trend appears to have spread across the Pacific, as we're currently experiencing it here too.